Yosemite National Park in California is the USA's oldest National park, founded in 1890. Over 130 years later, it still brings in hikers and adventure enthusiasts from around the world. Yosemite attracted over 3.29 million visitors in 2021 and is expected to increase yearly to pre-pandemic levels. John Muir, a famous naturalist, also known as the "​​Father of the National Parks," advocated for Yosemite to become a national park in the late 1800s and helped preserve this natural wonder.
Yosemite is well known for its lush and beautiful forests with towering trees, granite monoliths, cliff faces, and stunning waterfalls. Most people visiting Yosemite plan to hike the endless miles of trail or climb some of the bucket list hikes like Half Dome or Yosemite Falls. Even if you aren't an avid hiker, Yosemite has something for everyone. Here are the top 10 things to do in Yosemite National Park.
1) Hike Half Dome
One of the most challenging hikes in Yosemite is Half Dome. It is a 10.9 out and back trail that is considered hard due to the long cable section when climbing the some. Although it is physically strenuous, it is easily the best thing to do in Yosemite. A once-in-a-lifetime view of the Yosemite Valley waits at the top of the dome.
If you are planning Half Dome, it is important to bring a sturdy backpack from one of the best backpack brands and pack lots of water, snacks, and hiking essentials. This hike requires a permit via a daily lottery system that opens in March. The cost is 10 USD. These permits protect hikers and the environment from overcrowding and can be tricky to get.
The lottery/application process is open 2 days before your hiking date and can be filled in online. ​​The lottery is open from 12 am to 4 pm PST. If you are planning to hike Half Dome, it is important to remember to bring a photo ID and the email confirmation indicating that the permit has been paid.
2) Feel the mist of Yosemite Falls
The tallest waterfall in Yosemite National Park is Yosemite Falls at 739 meters, which makes it one of the tallest waterfalls in the world (according to facts about California). It is one of the most famous waterfalls in the park and the hike to the bottom of the waterfall is relatively easy and Is great for families or people who aren't up for a challenging hike.
The best time to see Yosemite Falls is in the spring when the water is gushing. In the summer, when the water slows to a trickle, you can clamber up the rocks and swim in the freezing pool of water under the falls. It makes for a nice cool down after any hike.
For those that are more adventurous, you could tackle upper Yosemite falls which is a 12.2 km trail it gives you a spectacular view of the valley below.
3) Take in the scenery from the Tunnel view
Tunnel View is one of the most picturesque places in the park, and it is the perfect place to stop and take photos. The view shows everything from El Capitan to Half Dome and back. It is definitely a sight worth seeing.
Most people drive and park at Tunnel View, but if the parking lot is full, you can park in the loop on the other side of the road. If you want to add a hike to this experience, check out Artists point, which is just across from Tunnel View. You will get the same (if not better) views without all the crowds!
4) Walk among giants
Mariposa Grove is right at the south entrance to Yosemite and is filled with the most enormous trees you have ever seen! Marvel at the incredibly tall sequoia trees that grow here on an easy trail walk.
You can see famous trees like the Tunnel tree (that you can walk through, The Wawona Tree, and Grizzly Giant. This is the perfect low-impact activity in Yosemite as the trail is well-groomed and easy to walk.
5) Bridal Veil Falls
Bridal Veil Falls is another stunning waterfall where you can get up close and personal with the falls. It is the first waterfall you see when coming into the park, and the water can be thundering during spring. Still, towards summertime, the water slows, and it is easy to get to the bottom of the falls.
The hike to get there is relatively easy. The trail is only 0.5km long and takes about 20 minutes. Parking is ample, although it does fill up fast in the summer.
6) See El Capitan up close
El Capitan is a 2,308-meter granite rock formation that stands out in the backdrop of Yosemite National Park. This monolith was already quite famous before Alex Honnold set out to climb this without any ropes. The movie Free Solo made El Capitan a household name, and people come from all over the world to marvel at it.
While El Capitan takes years of training, you can still get up close to see it in person, and if you love to climb, you can join a program with the Yosemite Mountaineering School to experience climbing in the park!
7) Stand above the rest at Taft Point
As if you didn't need any more mind-blowing views, Taft Point offers a unique perspective of the valley and some fantastic photo opportunities. Stand at the cliff's ledge and snap a shot of the view below, or have someone take your picture with the ridge and distant valley in contrast with each other!
Taft Point is a 3.5km round trip hike for those who aren't afraid of heights. It is relatively easy, making it an excellent hike for beginner/intermediate hikers. Due to its short distance, it also makes for a nice place to watch the sun set on El Capitan and the Yosemite Valley (just bring a headlamp in case).
Near Taft Point, you can also visit Washburn Point and Glacier Point, although parking can be scarce in the busy summer months.
8) Learn about Yosemite's history
The Pioneer Yosemite History Center is a must-visit to learn the history of this ancient valley and the significance it holds to the indigenous population as well as the Europeans who colonized the area and turned it into the USA's first National Park.
Take a joy ride on a replica of a horse-drawn stagecoach or see how blacksmiths worked iron over a coal forge. This museum will entertain kids and adults alike!
You can also visit The Yosemite Conservation Heritage Center in Yosemite Valley. This education center is open from 10 am to 4 pm during peak months and has a host of interesting park-related exhibits to enjoy.
9) Mirror lake
Mirror lake is a popular place in Yosemite for swimming and fun in the sun. It is a 3.5km round trip hike to get there, and it's an easy one making it perfect for families or those who cant tackle big hikes.
When this lake is nice and calm, you can snap some beautiful reflection photos of the mountains, and it's a photographer's dream! It can get crowded in the summer, so come early to grab a lovely spot. Don't forget to pack a picnic!
10) Drive Tioga Road
Tioga road is very underrated due to its location. Tioga Road is located outside Yosemite Valley but still within the park; because of this, not many people have the time to drive out there and see it.
Along this road, you will pass Tulome meadows, which is a scenic meadow with a river and mountains in the backdrop. It is gorgeous in the spring when all the flowers bloom.
You can also cross California's highest vehicle crossing, Tioga Pass.
How to get to Yosemite National Park
Yosemite is located in the middle of California state, and the nearest international airport is San Francisco. Other small airports are located in nearby cities like Sacramento and Reno. If you are looking to book your flight to one of these nearby airports, check out some of the best booking sites for flights!
It is ideal to rent a car when visiting Yosemite National Park as it is a large park and is easily navigated by car. Once in the park, they have a bus service that stops by many of the trailheads to mitigate parking issues. It is a very reliable and time-saving service, and it's recommended for first-time visitors.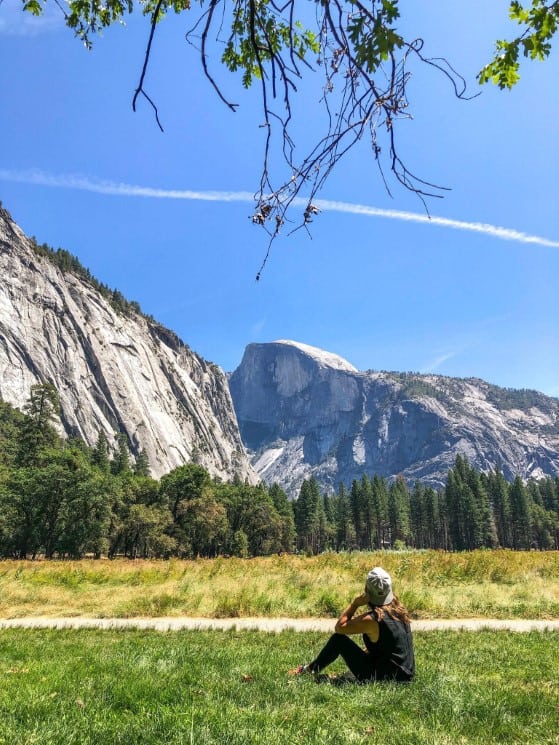 Staying in Yosemite National Park
There are a few options for accommodations in and around Yosemite, the easiest being staying at the lodge or camping in the park. If you choose to stay in Yosemite, make sure that you make your booking well in advance, as it tends to fill up fast during peak months between June and September.
Other great options, if you have a car, would be to stay in the nearby town of Mariposa (1-hour drive) or Fresno (2-hour drive). Mariposa has limited options and tends to be more expensive, whereas Fresno has more hotel options and is relatively cheaper.
No matter what you choose to do, you are bound to have a wild adventure in Yosemite National Park!
Read also: 23 Best Places to Visit on Your West Coast USA Road Trip
---
Author's Bio:
Amanda is a travel blogger and freelance writer based in Vancouver. In her spare time she enjoys finding hidden gems and planning budget friendly trips. Author of the Pineapple Backpacker blog and a regular contributor at FidisTravel.