83 Best Songs About Hope and Perseverance for (2023)
Are you looking for some inspiration or motivation? Check our ultimate collection of the best songs about hope and perseverance.
We have divided these songs by music genres. You can jump directly to your favorite genre using table of contents:
Pop Songs About Hope and Perseverance
1) Kelly Clarkson – Stronger (What Doesn't Kill You)
What doesn't kill you makes you stronger
Stand a little taller
Doesn't mean I'm lonely when I'm alone
What doesn't kill you makes a fighter
Footsteps even lighter
Doesn't mean I'm over 'cause you're gone
2) Monty Python – Always Look On The Bright Side Of Life
Some things in life are bad
They can really make you mad
Other things just make you swear and curse
When you're chewing on life's gristle
Don't grumble, give a whistle
And this'll help things turn out for the best
AndAlways look on the bright side of life
Always look on the light side of life
3) Rachel Platten – Fight Song
This is my fight song
Take back my life song
Prove I'm alright song
My power's turned on
Starting right now I'll be strong
I'll play my fight song
And I don't really care if nobody else believes
'Cause I've still got a lot of fight left in me
4) Michael Franti – Hey World (Don't Give Up)
Hey world, you know you got to put up a fight
Hey world, you rumble in the jungle tonight
Hey world, keep bringing it the rest of your life
You got to put up a fight, you got to put up a fight
5) Michael Jackson – We Are the World
We are the world (we are the world)
We are the children (we are the children)
We are the ones who make a brighter day
So let's start giving
6) Gloria Estefan – Always Tomorrow
But there's always tomorrow to start over again
Things will never stay the same the only one sure thing is change
That's why there's always tomorrow
7) Gloria Estefan – Coming Out of the Dark
Starting again is part of the plan
And I'll be so much stronger
Holding your hand
Step by step, I'll make it through
I know I can
I may not make it easier
But I have felt you
Near all the way
8) Marvin Gaye & Tammi Terrell – Ain't No Mountain High Enough
Oh no darling,
No wind, no rain
No winters cold can stop me baby
No, no baby,
'Cause you are my love
If you ever in trouble, I'll be there on the double
Just send for me, oh baby
9) Katrina & The Waves – Walking On Sunshine
Now I'm walking on sunshine
I'm walking on sunshine
I'm walking on sunshine
And it's starting to feel good, hey
All right now
And it's starting to feel good
10) The Go-Go's – Can't Stop the World
can't stop the world
Can't stop the world
Can't stop the world
Why let it stop you
Why let it stop you
Why let it stop you
11) Michael Jackson – Heal The World
Heal the world, Make it a better place
For you and for me, And the entire human race
12) Christina Aguilera – Beautiful
And everywhere we go
The sun will always shine
And tomorrow we might wake on the other side
13) Foals – Mountain At My Gates
Yeah, when I feel low, you show me a signpost for where I should go
14) Electric Light Orchestra – Mr Blue Sky
Hey there Mr. Blue, we're so pleased to be with you
Look around see what you do, everybody smiles at you
15) P!nk – Just Like Fire
Just like fire, burning out the way
If I can light the world up for just one day
Watch this madness, colorful charade
No one can be just like me any way
Just like magic, I'll be flying free
I'mma disappear when they come for me
I kick that ceiling, what you gonna take?
No one can be just like me any way
Just like fire, fire, fire
Running, running, running
We can get 'em running, running, running
Christian and Gospel Songs About Hope
16) Elevation Worship – Do It Again
I've seen You move, You move the mountains
And I believe I'll see You do it again
You made a way, where there was no way
And I believe I'll see You do it again
17) Travis Greene – Made A Way
And you move mountains
You cause walls to fall
With Your power
You perform miracles
There is nothing that's impossible
And we're standing here
Only because You made a way
18) Thomas Chisholm – Great Is Thy Faithfulness
Pardon for sin and a peace that endureth,
Thine own dear presence to cheer and to guide,
Strength for today and bright hope for tomorrow—
Blessings all mine, with ten thousand beside!
19) Shane & Shane – Seas of Crimson
For every curse, you're the cure
For every sickness, you're the healer
For every storm, you're the calm
For all that's lost, oh, what a savior
On that cross of calvary
Every burden has been defeated
Every wretched heart redeemed
You drown our sins in seas of crimson
20) Elevation Worship – Here As In Heaven
Spirit of God fall fresh on us
We need Your presence
Your kingdom come, Your will be done
Here as in heaven!
Here as in heaven, Lord
21) Tauren Wells – Hills and Valleys
I've walked among the shadows
You wiped my tears away
And I've felt the pain of heartbreak
And I've seen the brighter days
And I've prayed prayers to heaven from my lowestplace
And I have held the blessings
God, you give and take away
22) Hillsong Worship – Seasons
I can see the promise
I can see the future
You're the God of seasons
And I'm just in the winter
If all I know of harvest
Is that it's worth my patience
Then if You're not done working
God I'm not done waiting
You can see my promise
23) Jackie Evancho – To Believe
Believe in what your heart is saying,
Hear the melody that's playing
There's no time to waste,
There so much to celebrate
Believe in what you feel inside,
Give your dreams the wings to fly
You have everything you need, if you just believe
Jazz Songs About Hope and Perseverance
24) Bobby McFerrin – Don't Worry Be Happy
Here's a little song I wrote
You might want to sing it note for note
Don't worry, be happy
In every life we have some trouble
But when you worry you make it double
Don't worry, be happy
Don't worry, be happy now
25) Louis Armstrong – What a Wonderful World
I see trees of green
Red roses too
I see them bloom
For me and you
And I think to myself
What a wonderful world
26) Dinah Washington – Trouble in Mind
Trouble in mind, I'm blue
But I won't be blue always,
'Cause that sun is gonna shine in my back door someday
Folk Songs About Hope and Perseverance
27) Israel Kamakawiwoʻole – Somewhere over the Rainbow
Somewhere over the rainbow
Bluebirds fly
And the dreams that you dream of
Dreams really do come true-ooh-ooh
28) Simon & Garfunkel – Bridge over Troubled Water
Sail on silver girl
Sail on by
Your time has come to shine
All your dreams are on their way
See how they shine
Oh, if you need a friend
I'm sailing right behind
29) Joan Baez – We Shall Overcome
We shall overcome,
We shall overcome,
We shall overcome, some day.
Oh, deep in my heart,
I do believe
We shall overcome, some day.
30) The Frames – Falling Slowly
Take this sinking boat
And point it home
We've still got time,
Raise your hopeful voice
You had the choice,
You've made it now
Rock Songs About Hope and Perseverance
31) Journey – Don't Stop Believin'
Don't stop believin'
Hold on to that feelin'
Streetlight, people
Don't stop, believin'
Hold on
Streetlights, people
32) The Beatles – Let It Be
And when the night is cloudy there is still a light that shines on me
Shinin' until tomorrow, let it be
I wake up to the sound of music, Mother Mary comes to me
Speaking words of wisdom, let it be.
33) Mikeschair – Keep Changing the World
To all the people who are fighting for the broken
All the people who keep holding onto love
All the people who are reaching for the lonely
Keep changing the world
34) Aerosmith – Dream On
Half my life's in books, written pages
Live and learn from fools and from sages
You know it's true, oh
All the things come back to you.
35) Queen – The Show Must Go On
The show must go on
The show must go on, yeah
Inside my heart is breaking
My makeup may be flaking
But my smile, still, stays on
36) Survivor – Eye of the Tiger
So many times it happens too fast
You change your passion for glory
Don't lose your grip on the dreams of the past
You must fight just to keep them alive
37) Never Too Late – Three Days Grace
Even if I say it'll be alright
Still I hear you say you want to end your life
Now and again we try to just stay alive
Maybe we'll turn it all around 'cause it's not too late
It's never too late
38) The Beatles – Here Comes the Sun
Here comes the sun do, do, do
Here comes the sun
And I say it's all right
39) Van Halen – Right Now
One step ahead, one step behind me
Now you gotta run to get even
Make future plans or dream about yesterday, hey
C'mon turn, turn this thing around
40) John Lennon – Imagine
You may say I'm a dreamer
But I'm not the only one
I hope some day you'll join us
And the world will be as one
41) The Scorpions – Winds of Change
With you and me
Take me to the magic of the moment
On a glory night
Where the children of tomorrow dream away
In the wind of change
The wind of change
42) Bon Jovi – It's My Life
It's my life
It's now or never
But I ain't gonna live forever
I just want to live while I'm alive
43) Thin Lizzy – Fighting My Way Back
Fighting my way back
I'm fighting my way back
Fighting
44) R.E.M – Everybody Hurts
If you're on your own in this life
The days and nights are long
When you think you've had too much
Of this life to hang onWell, everybody hurts sometimes
Everybody cries
Everybody hurts, sometimes
45) U2 – Beautiful Day
It's a beautiful day
Sky falls, you feel like
It's a beautiful day
Don't let it get away
46) Innocent – Our Lady Peace
I remember feeling low
I remember losing hope
I remember all the feelings
And the day they stopped
47) Elton John – I'm Still Standing
Don't you know I'm still standing better than I ever did
Looking like a true survivor, feeling like a little kid
48) Tom Petty – I Won't Back Down
No, I'll stand my ground, won't be turned around
And I'll keep this world from draggin' me down
49) Oasis – Whatever
I'm free to be whatever I, whatever I choose
And I'll sing the blues if I want
50) Biffy Clyro – Victory Over the Sun
We can change the world despite all our enemies
We're fighting on, listen to your heart and sing
51) Declan Mckenna – Brazil
I've got a mission and my mission is real
Because you've had your chances, yeah you've had enough
I'm gonna burn your house down to spread peace and love
52) Queen – I Want to Break Free
I've got to break free
God knows, God knows I want to break free
53) Abra Moore – I Believe
I believe, I believe
(Where is the laughter, where is the hopeful?
Where is that light that makes me sing?)
I believe, I believe
(Where is the courage, where is the faithful?
Where is that wind beneath my wings?)
54) Jack Johnson – Better Together
It's not always easy and sometimes life can be deceiving,
I'll tell you one thing, it's always better when we're together
R&B, Soul, and Funk Songs About Hope
55) Des'ree – You Gotta Be
Listen as your day unfolds
Challenge what the future holds
Try and keep your head up to the sky
Lovers, they may 'cause you tears
Go ahead release your fears
56) Bill Withers – Lean on Me
Sometimes in our lives
We all have pain
We all have sorrow
But if we are wise
We know that there's always tomorrow
57) Curtis Mayfield – Move On Up
So hush now child, and don't you cry
Your folks might understand you, by and by
Move on up, and keep on wishing
Remember your dream is your only scheme
So keep on pushing
58) Whitney Houston & Mariah Carey – When You Believe
There can be miracles when you believe
Though hope is frail, it's hard to kill
Who knows what miracles you can achieve?
When you believe, somehow you will
Now, you will, you will when you believe
You will when you believe, just believe
Just believe, you will when you believe
59) Edwin Starr – Time
Well, well, well
The day when time brings on that blessed change
On, that day the whole world will sing
Time will have washed all our fears away
And peace will have brought us a brand new day
60) Bill Withers – Lovely Day
When the day that lies ahead of me
Seems impossible to face
When someone else instead of me
Always seems to know the way
61) The Impressions – Keep on Pushing
Now maybe some day (mmm-hmm)
I'll reach that higher goal
I know I can make it
With just a little bit of soul
'Cause I've got my strength
And it don't make sense
Not to keep on pushing
62) Mavis Staples – We Get By
We get by, we get by
No matter how long, I'll be waiting here for you
We get by
We get by, we get by
No matter how long, I'll be waiting
We get by
63) The Staple Singers – I'll Take You There
Mercy now! (I'll take you there)
I'm callin', callin', callin' for mercy (I'll take you there)
Mercy, mercy! (I'll take you there)
You oughta, you gotta gotta, let me, let me (I'll take you there)
Take you, take you, take you over there (I'll take you there)
64) Diana Ross – Reach Out and Touch Somebody's Hand
Reach out and touch somebody's hand
Make this world a better place if you can
65) Michael Kiwanuka – Home Again
One day I know I'll feel home again
Born again, born again
One day I know I'll feel strong again
66) Sam Cooke – A Change Is Gonna Come
It's been too hard living, but I'm afraid to die
Cos I don't know what's out there beyond the sky
It's been a long, a long time coming
But I know a change is gonna come, oh yes it will
67) Nat King Cole – Smile
Smile though your heart is aching
Smile even though it's breaking
When there are clouds in the sky you'll get by
If you smile through your fear and sorrow
Smile and maybe tomorrow
You'll see the sun come shining through
For you
68) Eddie Kendricks – Keep on Truckin'
Keep on truckin', baby
I got to keep on truckin'
Got to get to your good lovin'
Huh…huh…huh…huh…huh…
Hip Hop and Rap Songs About Hope
69) Kendrick Lamar – Alright
We gon' be alright
Do you hear me, do you feel me?
We gon' be alright
70) K'naan – Waving Flag
When I get older
I will be stronger
they'll call me freedom
just like a wavin' flag
71) Eminem – Not Afraid
I'm not afraid, I'm not afraid (yeah)
To take a stand, it's been a ride
Everybody, I guess I had to
Go to that place
To get to this one
Now some of you
Might still be in that place
If you're tryin' to get out
Just follow me
I'll get you there
72) Nas – I Can
I know I can (I know I can)
Be what I wanna be (be what I wanna be)
73) Black Eyed Peas – Where Is the Love
Can't we all just get along?
Father, Father, Father help us
Send some guidance from above
74) Kanye West – Ultralight Beam
Deliver us serenity, deliver us peace
Deliver us loving, we know we need it
Disco / Dance Songs About Hope and Perseverance
75) Daft Punk – Harder Better Faster
Work it harder, make it better
Do it faster, makes us stronger
More than ever, hour after hour
Work is never over
76) Irene Cara – What A Feeling (Flashdance)
What a feeling
Bein's believin'
I can have it all
Now I'm dancing for my life
Take your passion
And make it happen
Pictures come alive
You can dance right through your life
What a feeling
77) Chumbawamba – Tubthumping
I get knocked down, (we'll be singing)
but I get up again
You are never gonna keep me down (ooh)
78) Gloria Gaynor – I Will Survive
Oh no, not I, I will survive
Oh, as long as I know how to love, I know I'll stay alive
I've got all my life to live
And I've got all my love to give and I'll survive
I will survive, hey, hey
Reggae Songs About Hope and Perseverance
79) Get up Stand up – Bob Marley
Get up, stand up! (Jah, jah!)
Stand up for your rights! (Oh-hoo!)
Get up, stand up! (Get up, stand up!)
Don't give up the fight! (Life is your right!)
Get up, stand up! (So we can't give up the fight!)
Stand up for your rights! (Lord, lord!)
Get up, stand up! (Keep on struggling on!)
Don't give up the fight! (Yeah!)
80) Bob Marley – One Love
One love, one heart, let's get together and feel alright
Country Song About Hope and Perseverance
81) Dolly Parton – Light of a Clear Blue Morning
'Cause I can see the light of a clear blue morning
I can see the light of a brand new day
I can see the light of a clear blue morning
Oh, and everything's gonna be all right
It's gonna be okay
Metal Song About Hope and Perseverance
82) Killing Joke – You'll Never Get to Me
I'll never let you get to me
Survival is my victory
Time for celebration, oh
Overcome with sense of elation
Read also: 335 Best Song Lyrics for Instagram Captions
Pin these songs for later and to your friends: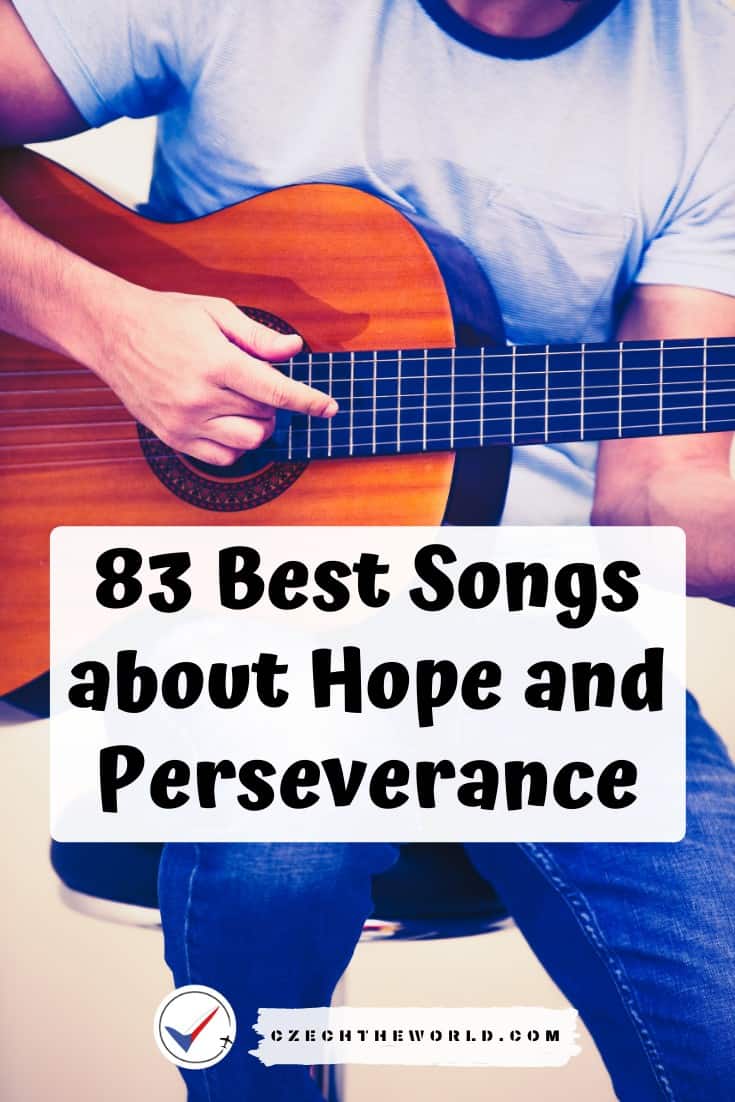 Do you like this post? Share it with your friends: