What does a yacht holiday in Croatia look like? What can you expect during the cruise? Who is the sailing holiday suitable for? And what can you look forward to?
Let's have a look at how does the sailing week in the Mediterranean look like. Because everyone can become a sailor!
Why should you say YES to a yachting holiday?
It's a perfect escape from crowded beaches – instead of being in crowded places, you can anchor in a deserted cove or stop for a swim at any location. Alternatively, you can anchor in a marina, and enjoy the restaurants ashore.
You have complete freedom to decide where to go next – it's up to you (and your captain) to decide where you want to go for the next few days. You can combine anchoring in marinas and secluded bays.
You can experience night swimming with bioluminescent plankton – it is not uncommon to find bioluminescent plankton in uninhabited bays. It's a truly amazing experience – it is like swimming in a universe full of thousands of sparkles.
You'll learn something new every day – sailing is one activity where you can learn a lot (if you want to), from navigation, rope work, and hoisting the sails to steering the boat and reading the wind.
You can experience an adventure combined with a leisury chill – again, it's up to you whether you choose the shorter sailing legs or take the plunge into yachting and go for longer routes.
You'll enjoy unlimited swimming and snorkeling – don't expect coral reefs in Croatia, but you'll probably see schools of fish and you can visit some of the old shipwrecks that beckon exploration.
You might see dolphins – we were lucky enough to see one school of dolphins nearby the island of Brač.
You'll have a wonderful time falling asleep – the rocking of the boat is wonderful (you will fall asleep very easily, probably as easily as a baby in a rocking stroller)
What does a charter in Croatia look like?
A typical week on a yacht starts with a Saturday embarkation at the marina. You can usually get on the yacht around 4-5 PM. The first night is usually spent in the marina where you have the opportunity to explore the evening town, pubs, and restaurants, or go for ice cream.
The other days are up to your preference. Usually, you get up in the morning, have breakfast, jump into the sea, and then set sail. Along the way, you can make some swim stops. In the afternoon, you usually arrive at the bay or harbor where you will anchor.
The rest is up to you – you can learn to steer the boat, handle the ropes or just enjoy the relaxing time, sunbathing, swimming, snorkeling, reading, etc. You can also stop and explore the islands. There is also a small dinghy on the yacht, that you can use to comfortably get ashore even if you anchor somewhere other than in the marina.
On the last evening (Friday) you will be back in your home port. The boat is most often handed over the following morning.
Watch the following video to get a much better idea of a yachting holiday:
What to pack for the yachting holiday?
You won't need many things. Here is a handy list:
Clothes for a sunny day – shorts, t-shirt, cap, sunglasses, swimsuit
Clothes for a cloudy day – long trousers, a windproof jacket
Evening clothes – sweatshirt or sweater
Rainwear – softshell jacket, trousers
Boat shoes (trainers/crocs with light soles, but most of the boats are built to be barefoot, which is probably the most comfortable option)
Shoes for shore trips – (sandals/sneakers)
Water shoes – (there might be sea urchins)
Sunscreen
Towel
Snorkeling kit
Headlamp
Repellent
Travel Insurance
Some board games might be handy for evenings.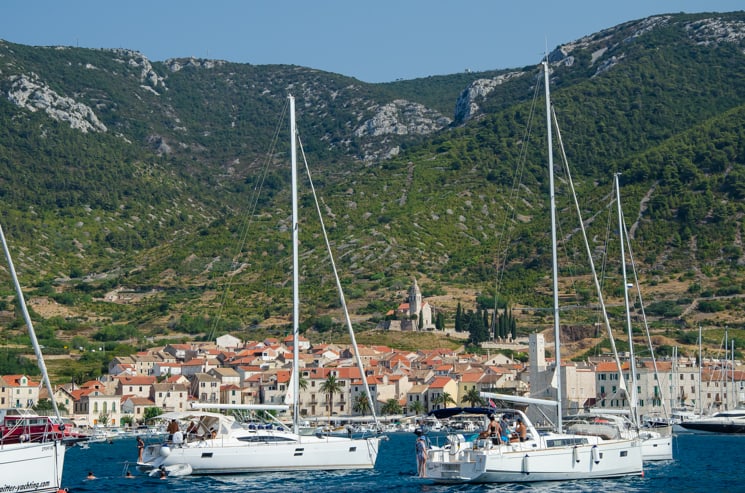 Who is a boat holiday suitable for?
Families with children, adventurers, anybody searching for a relaxing vacation, groups of friends, and simply anyone who wants to go sail and enjoy the sea.
The cruise can be whatever you make it. You can take it easy, visit small towns or uninhabited bays, and enjoy the calm sound of the sea. On the other hand, you can party hard. Or you can sail the whole day from morning till evening. It's completely up to you.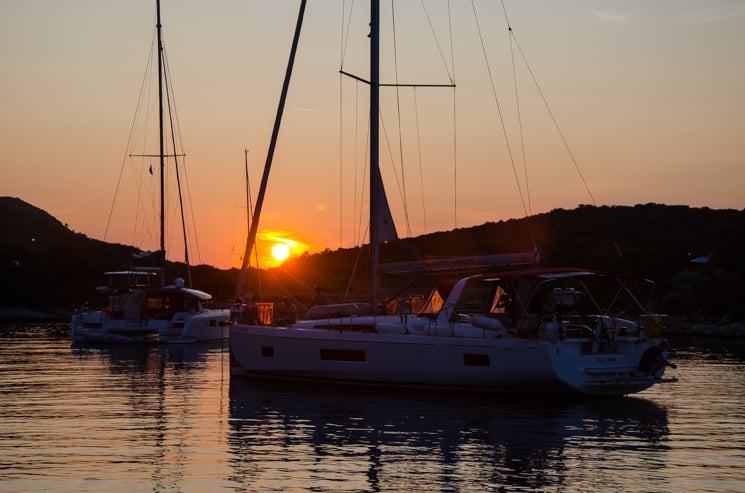 Yacht charters in Croatia
If you are looking for a charter company, which you can rent a boat from, we recommend Navigare Yachting. They have boats in Dubrovnik and Trogir.
In case you are also looking for an experienced skipper with a Yacht Master license, you can contact Sebastian Plotzer at [email protected].
What about seasickness?
Most people don't suffer from seasickness. Moreover, the Adriatic Sea is usually calm in high season and there are no big waves to worry about. The best advice for seasickness is not to be below deck – it helps to be out in the fresh air and watch the horizon.
But of course, you can get sick from the wavy sea. So, it's a good idea to pack some Kinedryl just in case.
You may have the opposite problem, which is rather hilarious (that affected our entire crew). Whenever we get on the shore, everything was "swinging "with us. Mostly in the shower, at restaurants, or whenever we closed our eyes. But all we had to do was get back on the yacht and everything was back to normal. Well, the body can adapt to life at sea very quickly.
Food on yacht
The crew usually buys and cooks their own food. As far as the group is concerned, one or two people cook for everyone each day, and people take turns. It is also common practice for the crew to cook for the captain, as he is busy with other things and has no time for cooking.
There is no need to cook every day because sometimes you will want to stop for dinner in a town and go to a restaurant.
Lunch is usually light and easy to prepare, such as tortillas with vegetables, etc., because you often sail during the day and it is not comfortable to cook while sailing. Dinner is usually the biggest meal of the day. Preserves are a very good idea. It saves you a lot of work and time. Expedition meals are also suitable, we can recommend the Adventure Menu.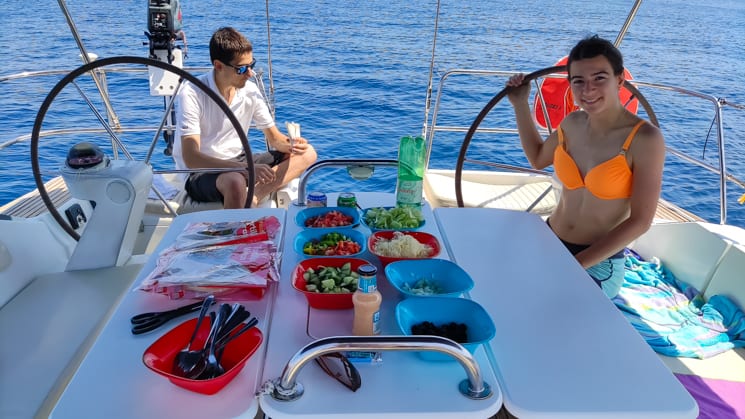 Places to visit on your way to Croatia
1) Krka National Park
Krka National Park is located a short distance from Šibenik and the main highway. If you only have half a day, the park is still definitely worth a visit. The best things await you along the main hiking trail. In case you have more time, you can buy a boat trip that will take you to other places.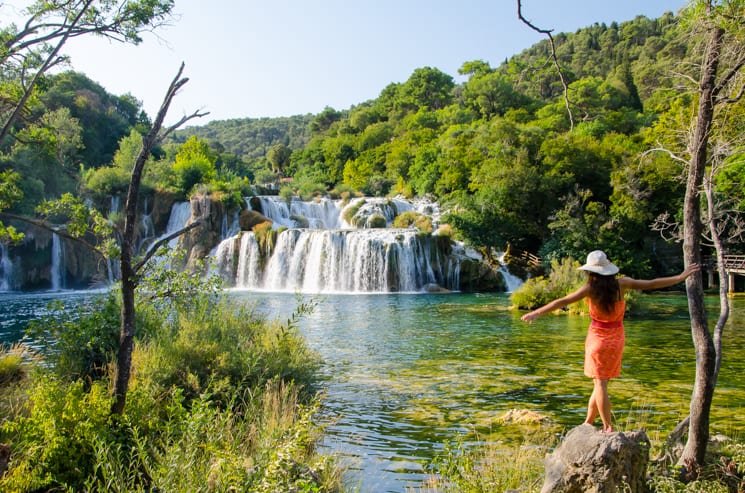 2) Primošten
You may know this picturesque town from many photos. Its center is situated on a hilly peninsula. If you want to make even a short stop here, it's definitely worth it. Walk to the top of the island to the church, stop for a Mediterranean lunch or enjoy a delicious Adriatic ice cream.
3) Trogir
Another picturesque town that you can walk through in a very short time. The historic center of Trogir is a UNESCO World Heritage Site. Here you will be welcomed by narrow picturesque streets, churches, and a beautiful marina.
4) Plitvice Lakes National Park
The Plitvice Lakes are rightly considered one of the most beautiful places not only in Croatia but in the whole of Europe. A visit can theoretically be done in half a day, but we recommend a full day.
Therefore, it is advisable to arrange accommodation for a night near the lakes. There are many possibilities, nice accommodation is, for example, Vila Vuk.
Tickets to the park can be bought on the spot, but you may spend up to 2 hours in the queue. That's why it's a good idea to book online (at least 1 day in advance). You must choose a time window when you plan to enter the park and then show up at that time. If you want to avoid the biggest crowds, it is advisable to pick up the first-time window from 7 to 8 AM.
Plitvice Lakes offer several routes to choose from. As part of the entrance fee, you can take a boat trip and then a bus that will take you back from the other end of the park.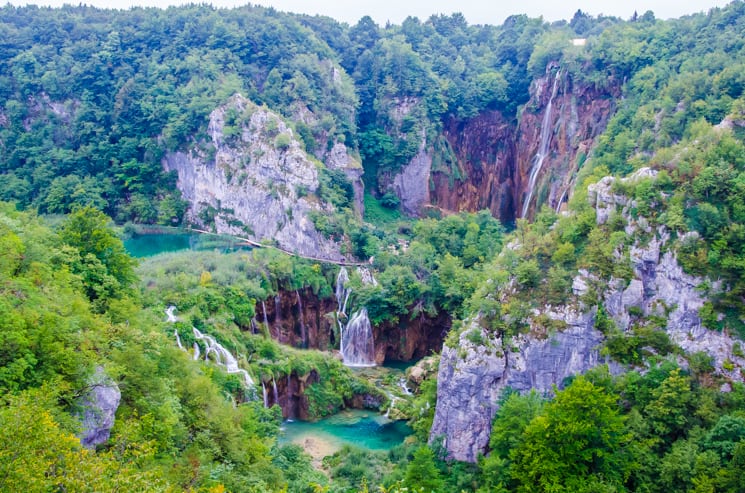 When is the best time for a yacht holiday in Croatia?
The sailing season in Croatia is from May to September. You can expect the warmest sea temperatures during July and August when the sea is around 25°C. The sea temperature during June and September is around 21°C. May is more suitable for sport sailing, as swimming is not very favorable (the water temperature is around 17 °C).
The weather and the season are probably like everywhere else, the low season offers lower prices and fewer tourists. On the other hand, the best weather and the most tourists are going to be there from June to August. So early September, for example, may not be a bad choice.
In conclusion
If you're open to new experiences and want to enjoy your holiday in Croatia in a slightly different way – without crowded beaches and with absolute freedom – go for it.
A sailing holiday is simply worth it!
Check also our articles about sailing in the Carribbean:
Pin Sailing Holiday in Croatia for later or for your friends:
Do you like our post about Sailing Holiday in Croatia? Share it with your friends!