There is no doubt that the British Virgin Islands is a perfect sailing destination. Four big and 32 smaller islands offer an incredible variety of beautiful white sand beaches, impressive coral reefs, peaceful anchorage, as well as bars and party locations – making it an ideal combination of a perfect Caribbean sailing holiday.
Catamaran charter at BVI
Whether you are new to sailing or you already sail for several seasons, you can be sure to experience the joy of freedom. Freedom of where to go the next day, if to snorkel, chill on the beautiful beach, or party in the evening. BVI has a great infrastructure, there are plenty of anchorages, moorings, and marinas in close proximity.
At BVI, there are several yacht charter companies. We can personally recommend Navigare Yachting, we had a chance to spend 2 weeks catamaran chartering at BVI. Their base is in Nanny Cay Marina, Tortola. It is only a 10-minute drive from the Road Town ferry terminal, which is handy if you arrive by ferry from USVI.
In short, we spend great 2 weeks sailing and exploring the British Virgin Islands at the spacious and elegant catamaran Lagoon 450 F. Their BVI fleet consists of over 50 sailing yachts, predominantly catamarans. You can read in detail about our experience with Navigare in the article "Sailing the BVI – Personal Experience with Navigare Yachting".
Now let's dive deep into all the practical information about sailing in BVI.
Why charter in BVI?
Yacht charters in the British Virgin Islands are great for several reasons:
Great infrastructure (there are plenty of moorings, bars, and restaurants)
Everyone speaks English.
Distances are short and you can always get assistance from the base.
Winds are manageable and navigation is easy (so sailing isn't overwhelming).
It's also a perfect winter escape.
There are plenty of beautiful snorkeling spots.
And last but not least the beautiful Caribbean sea and white sand beaches.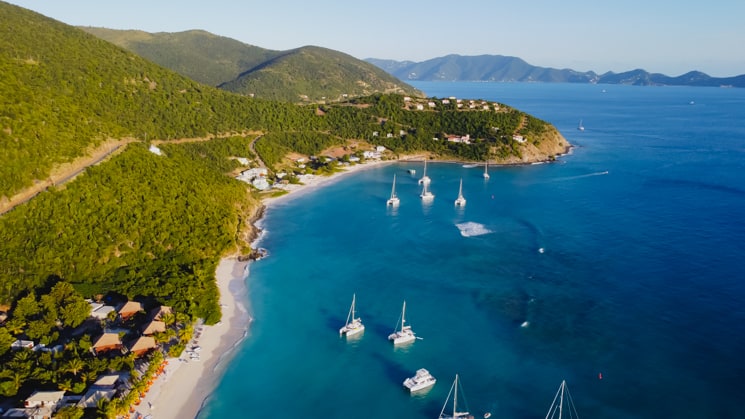 Charter types
Bareboat charter – you're only hiring a yacht with no crew. You are also responsible for everything that happens from the moment you've rented the yacht.
Skippered charter – the yacht comes with a captain (skipper) who is responsible for maneuvering the boat.
All-inclusive/Crewed charter – an all-inclusive charter means you get a full crew that is responsible for everything. It usually includes a captain, chef, and hostess, depending on the contract.
Best time to visit and sail BVI
The best time and the high season in the British Virgin Islands is from December to April. You can expect the steady wind and daily average temperature to be around 26 °C (79 °F).
The low-season months are May, June, and November, which can also be a good time to sail around BVI if you prefer fewer crowds. Temperatures range from the low 70s to mid-80s. You can also find some great airfares and hotel deals. The only thing is that from June to November, there is a threat of hurricanes.
How to get to BVI?
There are two possible ways to get to the British Virgin Islands. The first option is to fly directly to Tortola (Beef Island Airport – airport code EIS). The second option is to fly to the US Virgin Islands (Cyril E. King airport in St Thomas – airport code STT) and then take a ferry to Tortola, BVI.
Flying directly to Tortola
Flying to Tortola directly is usually more expensive than taking a ferry from St Thomas (USVI) to Tortola. All the flights to Tortola come from San Juan, Puerto Rico (SJU), Sint Maarten (SXM), or St Thomas (STT). For finding the best flight ticket deals in general, we use Skyscanner. In this case, it is cheaper to fly to St Thomas and take the ferry.
Ferry from St Thomas to BVI
A cheaper way to get to BVI is usually through St Thomas, USVI. There are ferry companies that operate between USVI and BVI:
Visas to BVI
In general, western world citizens don't need a visa to the British Virgin Islands for stays of up to 90 days. Remember to have your passport (valid at least six months beyond your date of country exit), proof of return flight (a flight ticket is enough), and sufficient funds for the intended length of your stay.
Here, you can see which nationalities are required to have visas to enter the BVI.
You can also check the latest travel requirements at the official BVI government website.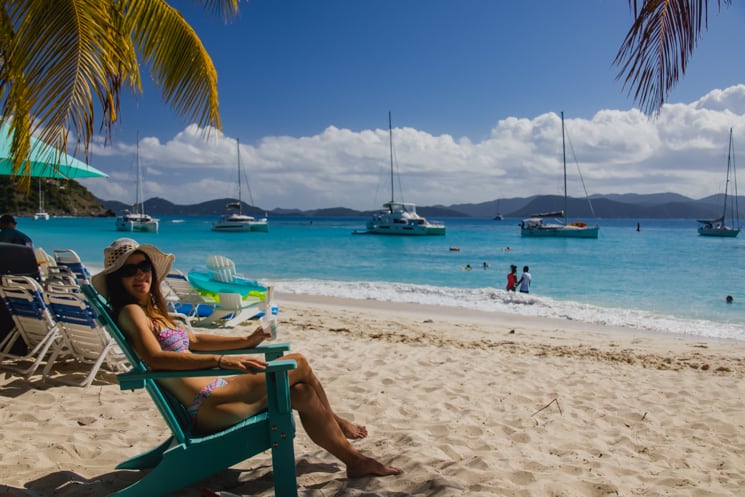 Currency and Prices at BVI
The currency in the British Virgin Islands is US dollars.
Card payments are usually widely accepted. Most shops and restaurants accept Mastercard and Visa, but you can struggle to use American Express, as it is not widely accepted in BVI. It's always a good idea to have some cash with you.
The British Virgin Islands tends to be one of the countries with higher price levels. You can check Numbeo, to see the up-to-date prices.
There are a few examples of what prices to expect:
Cocktail at the beach bar – 8 – 15 USD
Beer – 4 USD
A meal in an inexpensive restaurant – 20 – 30 USD
Lobster in the seafood restaurant – 45 USD
McMeal at Mcdonald's – 15 USD
Gasoline – 0.95 USD (per liter)
1 night at mooring ball – 30 – 55 USD
1 night at the marina – 80 – 120 USD
Packing list for a yacht charter in BVI
If you are wondering what to pack for a week or two on a yacht, here is a handy list:
Clothes for a sunny day – shorts, t-shirt, cap, sunglasses, swimsuit
Clothes for a cloudy day – long trousers, a windproof jacket
Evening clothes – sweatshirt or sweater
Wet weather gear (if sailing in the low season)
Boat shoes (trainers/crocs with light soles, but most of the boats are built to be barefoot, which is probably the most comfortable option)
Shoes for shore trips – (sandals/sneakers)
Water shoes
Coral reef-friendly sunscreen
Sunglasses
Towel
Snorkeling kit
Headlamp
Repellent
Seasickness tablets and basic medication
Clothes pegs (to hang and dry clothes without them blowing away)
Waterproof phone case or GoPro
Travel Insurance (check if the insurance includes yachting)
Some board games (might be handy for evenings).
Preferably, choose a bag, not a suitcase because storage space on boats is limited. Backpacks, soft cases with wheels, duffle bags, or any other kind of soft luggage are ideal, as they can be folded down and don't take up a lot of space.
The best places to visit in BVI while chartering
Are you ready to head off for the adventure? Here are some amazing places you can visit at BVI:
1) The Baths
Probably one of the most popular places in the entire British Virgin Islands. These surreal and spectacular rock formations can be found on the island of Virgin Gorda. The rocks form kind of a maze, you can walk through.
For yachts, there is a daytime anchorage that is ideal for swimming and snorkeling. We strongly recommend taking your dinghy, to go to the shore and enjoy the beautiful beach by these spectacular rocks.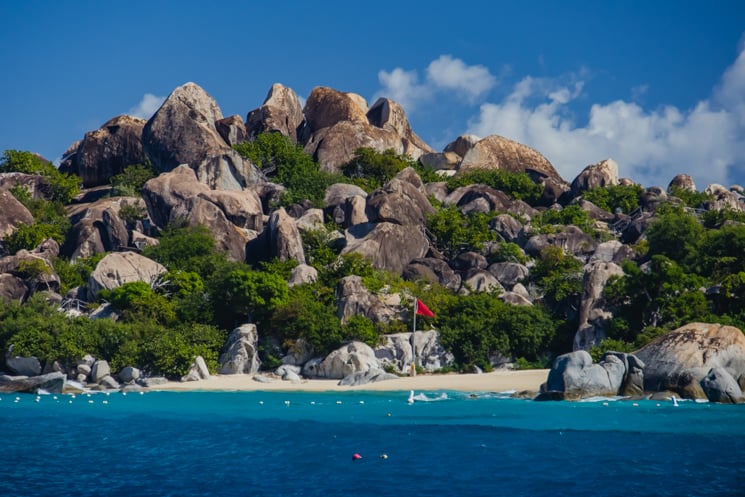 2) Anegada Island
Anegada island is the true Caribbean paradise location with white sand beaches, palms, and sea turtles swimming in the anchorage. If you have time, plan at least 2 nights over there, because you can rent a car or motorbike and do a little tour around the island. If you find yourself a seafood fan, we can highly recommend eating lobster in the Lobster Trap restaurant – it is a lovely place directly on the Pier.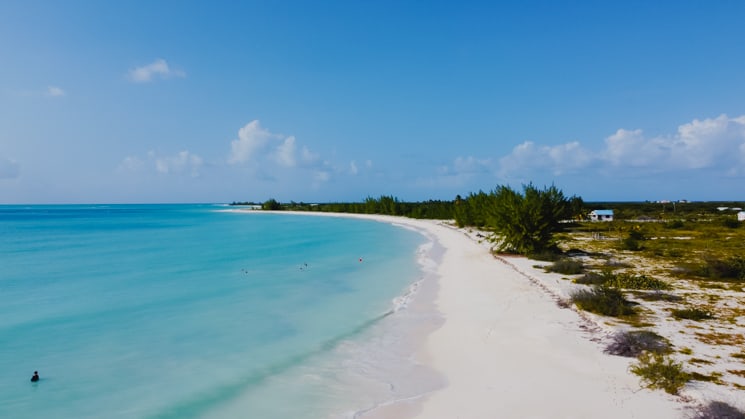 3) White Bay, Jost Van Dyke
Maybe you have already read something about the famous Soggy Dollar Bar. Yes, it is located in an amazing place, as the rumors say. Shallow turquoise bay with laid-back bars & white-sand beach and coconut palms. This place is paradise on Earth. Once you are there, you should try the Painkiller cocktail. Cocktail originated and perfected at the Soggy Dollar in the 1970s, which is now famous around the Caribbean. 
The Painkiller is a mix of premium dark rum, coconut cream, pineapple, and orange juice topped with fresh grated Grenadian nutmeg. 
White Bay is free to access and most travelers arrive by dinghy (there is no pier). Another option is to walk from the neighboring bay.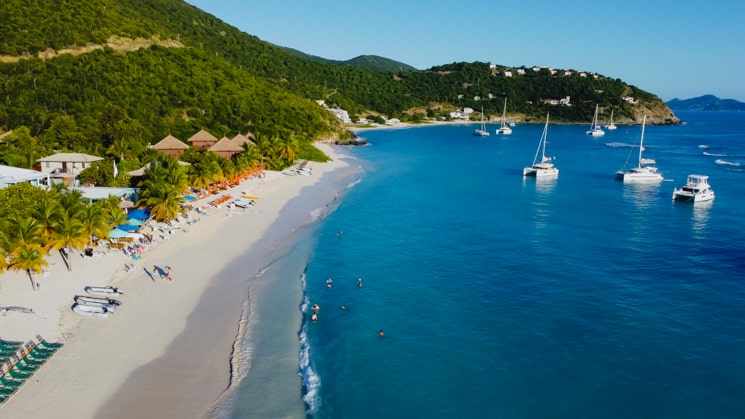 4) The Indians – snorkeling spot
The Indians is the no. 1 snorkeling spot in the British Virgin Islands. We have stopped at many different spots but this one was definitely the highlight of our journey. You'll find both hard and soft corals. We saw many fish, like parrotfish, cowfish, damselfish, sergeant majors, jacks, queen angels, wrasse, and even a sea turtle.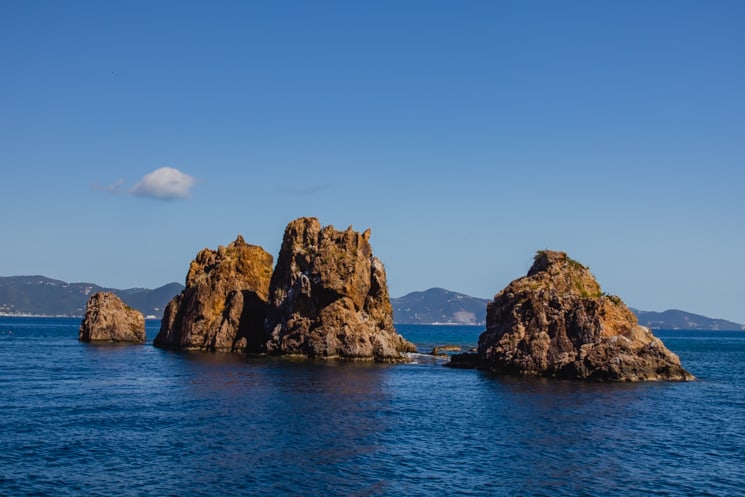 5) Trellis Bay for the Full Moon party
Have you heard about the full moon parties? The idea comes from Thailand, but if you are around the full moon around Tortola Island, you have to visit Trellis Bay. We were lucky to enjoy such a party and we can 100 % recommend it!
There were fire shows, dance shows, great party music, and delicious drinks!
Inside tip: The moorings in Trellis Bay fill up quite quickly for the full moon party – there was no space after 1 PM. So our suggestion is either to come early or you can always find a place in Low Bay and come by dinghy – it is quite far (a little over 1 km), but the dinghy can do it. In that case, don't forget the light with you.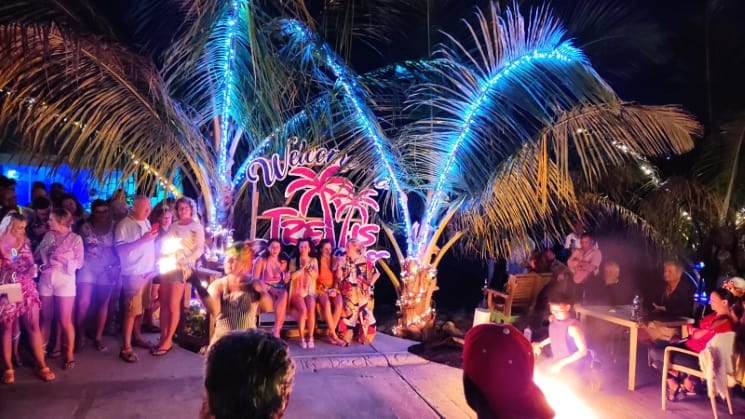 6) Scrub Island Resort, Spa, and Marina
If you want to enjoy a luxurious place, stay for a night or two at Scrub Island Marina. It is a very nice complex with a spa, swimming pool, and whirlpool with an amazing view. There is also a very nice snorkeling spot just a short ride with a dinghy. A night in a Marina was 120 USD per catamaran.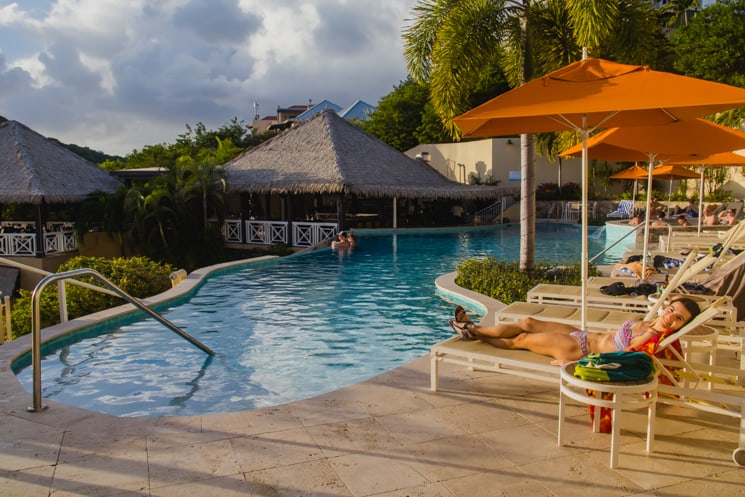 7) North Beach at Scrub Island
If you are looking for a tranquil beach, North Beach at Scrub Island is the one you are looking for. There is a beach bar, a little swimming pool, a shower, and many deckchairs under nice palm trees. You can get there by a quick ATV ride from the marina or it is a nice 10-minute walk from there.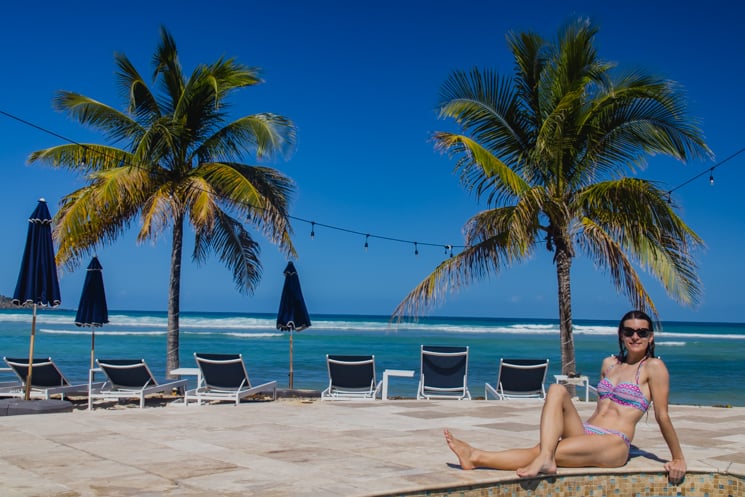 Pin Sailing the British Virgin Islands for later or to your friends:
Do you like our post about Sailing the British Virgin Islands? Share it with your friends!