Campervan holidays are growing more popular than ever, and why wouldn't they be? They allow you to plan your trip as you go, get in touch with nature and pack more than one suitcase! Once you've booked your campervan, the real question is where you'll go in it. There are plenty of options in the UK, from the mountains of Scotland to the coast of southern England. To help you with this decision, we've created this list of the five best campervan destinations in the UK. Which one will you visit for your next holiday?
1. Cornwall
Starting this list off strong is Cornwall! The Cornwall peninsula is filled with wild moorland, sandy beaches and rugged coastlines. Within it, you'll find the Cornish Riviera, the elegantly named south coast that is home to picturesque harbour villages and countless camping possibilities. Alternatively, the north coast is considered to be a great surfing destination, with a backdrop of towering cliffs and seaside resorts. Cornwall is your ideal campervan destination, filled with dainty roads, natural campsites and countless things to do!
Plenty of festivals are held in Cornwall, such as Boardmasters. It's an excellent camping destination, and you can fall asleep to the sounds of waves crashing against the shore. If you're travelling with kids, check out Pirate's Quest, Paradise Park and Flambards Theme Park. You can also take surfing lessons or even go coasteering along the cliffs! You'll never get bored in Cornwall and each day can end with a delicious traditional pastie.
2. Inverness
There are countless incredible places to visit in Scotland, but if we had to choose just one it would be Inverness, also known as the Capital of the Highlands. It's not only a great city to explore, but an excellent starting point for a road trip through northern Scotland. We recommend organising your campervan hire here and then embarking on the North Coast 500 road trip.
In Inverness, you can spend a morning visiting the Victorian Market. There you'll find all sorts of strange knick-knacks that you never thought existed! The market is also most famous for its clock that hasn't stopped ticking since 1890. Head to the Inverness Museum and Art Gallery to learn more about the fascinating Highland life and heritage of Inverness. You can grab some lunch in the museum cafe, or head to the next street which is filled with options. After this, visit Inverness Castle, with its gorgeous view of the River Ness. You can either take a tour or simply head to the view, and after this walk a few metres to the Flora Macdonald statue.
3. Lake District
The Lake District is a huge expanse of untamed natural beauty in Cumbria. It is practically made for road trips and is one of the most popular staycation destinations in the UK. Bear in mind that 15.8 million visitors go to the Lake District annually, so in the high season, some of the more popular attractions can get pretty busy! It's home to England's highest mountain and deepest lakes, carved out of the volcanic rock by glaciers, tens of thousands of years ago. It offers tourists windswept hikes and epic panoramas that rival some locations in New Zealand and North America, juxtaposed by quaint, historical villages, and plenty of cosy pubs to warm up in after a day in the great outdoors.
There are plenty of campsites in and around the Lake District, so finding a place to pitch your campervan shouldn't be difficult! Just make sure to avoid driving at night in the Lake District.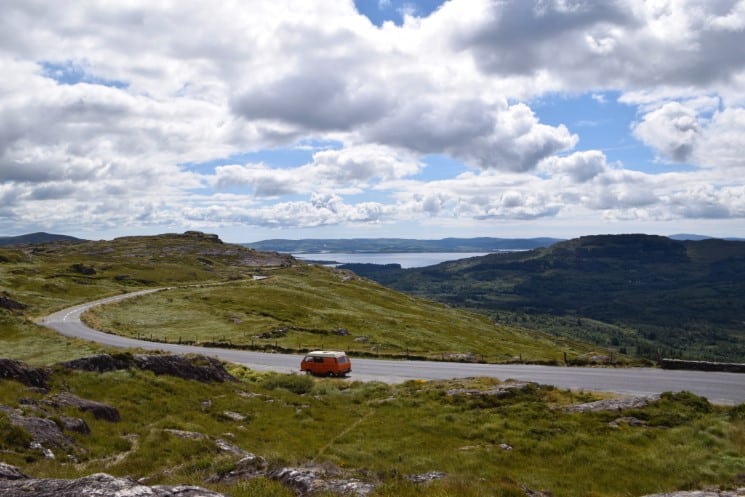 4. Isle of Wight
There are dozens of reasons to go on a motorhome holiday to the Isle of Wight. It's an island of beauty, mystery and intrigue. It isn't hard to see why the Isle of Wight should be one of your dream destinations. From coasteering to windsurfing, you'll have plenty to do! The Isle of Wight was named for the rocky cliffs that rise out of the sea, it has hosted countless historic figures, like Charles Dickens, Lord Alfred Tennyson and Queen Victoria, not to mention world-class musicians that have frequented its festivals over the years. Across its shores are the remains of 25 different species of dinosaurs. It was also the historic site of weapons testing and wartime raids, and its stories include starling reports of paranormal activity. The coves, caves and bays ache to be explored, whilst 70 miles of coastal track make for excellent hiking, and exciting cycle trails have been made from the island's disused railway network.
Getting to the Isle of Wight is easy as ferries depart from the mainland at Southampton, Lymington, or Portsmouth. You can book a ticket easily just make sure to check the dimensions of your campervan.
5. Causeway Coast
A list of the best campervan destinations in the UK would not be complete without mentioning Northern Ireland! Out of all the incredible places in Northern Ireland, we've finally settled on the Causeway Coast. According to legend, the giant Finn McCool built the Causeway as a path to connect Ireland with Scotland so he could take part in a fight. Although the columns don't quite bridge the two nations, walking around the Giant's Causeway can easily take a few hours. Plenty of great photo opportunities and even some hiking trails await! This also makes it a great destination for campervan travel with your dog. You can purchase an audio tour from the wonderful visitors' centre which tells the legend, geology, and history of the Causeway or keep your costs down by visiting for free. We recommend parking in the closest town and taking a shuttle to the site to walk around the visitors' centre.
Whether you're travelling solo, with your family or with friends, these five campervan destinations should definitely be on your list. They hold something for everyone and can be adapted to a short weekend away or a longer getaway. You could even combine two destinations for an incredible road trip in the UK.