Kathmandu is a small city that has all the major attractions in its proximity.
Kathmandu always has been the heart of Nepal's history, art, and culture.
The 13th-century king palace and the Buddhist antiquity make Kathmandu architecture of the major attractive quite unique. It is God's abode, a place where culture has become eternal in time and space.
It may also be messy, strange, intriguing, bright, vibrant, rich, and magnificent all at once, but it may be a once-in-a-lifetime opportunity to discover it.
When visiting Kathmandu, here are the top ten things to do.
1) Everest Base Camp Helicopter Tour
The Everest Base Camp Trek takes 12 days to complete, but an Everest Base Camp Helicopter tour will take four hours.
The helicopter tour will take you to breathtaking views of the world's highest snow-capped mountains, but it is a one-of-a-kind experience available only in Nepal, and it may be one of the most exciting things to do around Kathmandu.
The helicopter lands in Lukla, Everest view hotel, and Kalapathar. You can enjoy breakfast with a view of Everest from the Everest view hotel. The Kalapathar at its altitude of 5664m is the best place to see Mount Everest in the closest distance.
2) Visit Swayambhunath
Swayambhunath, residing on a hill in the city's west, is one of Kathmandu's most popular tourist attractions.
It is one of Buddhism's holiest sites and is known as the "Monkey Temple" due to the mischievous creatures that clamber over its shrines and temples.
It is a majestic stupa with the Buddha's eyes and brows painted at its heart.
The stupa's dome reflects the world, and each morning, worshippers traverse it with enthusiasm and dedication, hoping to achieve enlightenment.
Despite being built nearly 1,500 years ago, Swayambhunath is still popular, with pilgrims, priests, and revelers visiting daily.
3) Try Nepali food
There are tons of restaurants in Kathmandu. Momo, also renowned as tasty Nepalese dumplings, is a must-try for anyone visiting Kathmandu.
With so many different ethnic backgrounds, Nepal's food is undeniably delicious.
While the cuisine is strongly influenced by its neighbors, China and India,
Must-try dishes include Dhal bat (lentil or chicken curry, boiled rice with vegetables, pickles, and roti bread) and momo.
Check also this food guide to Nepal.
4) Pay a visit to Pashupatinath Temple
Pashupatinath Temple is a Hindu temple located in Kathmandu and is one of the best things to do in Nepal.
It is a spot for Shiva devotees to pray and for architects to admire the temple's designs and wood carvings, and it is one of Kathmandu's seven UNESCO Cultural Heritage sites.
5) Admire the Boudhanath Stupa
The golden spire of the Boudhanath Stupa, which tends to dominate the Kathmandu skyline, gleams in the sunlight from its prominent hilltop location.
The colossal monument is one of the world's largest spherical and unique structure stupas, and it certainly makes for a spectacular sight.
Each aspect of its beautiful architecture and design is immersed in symbolism and mirrors the Buddha's path to spiritual enlightenment.
It is filled with stunning visuals and monuments, monasteries and shrines, and brightly colored flags flutter up into the sky.
While it can be crowded and noisy at times, Boudhanath Stupa is well worth a visit and will leave you with a lasting and endearing image of Nepal and its many delights.
6) Go to Kumari Ghar
Kumari Chowk, set in the heart of Kathmandu, is a magnificent courtyard that is home to a living goddess.
Hindus worship and revere a barely pubescent girl to be the living manifestation of divine female energy.
This goddess appears in front of onlookers from her intricately carved balcony every day.
The wonderful red-brick building she resides in was built in 1757 and featured some lovely architecture and carvings.
However, the main reason for visiting would be seeing the Kumari and receiving her blessings. The Kumari is a young girl who is thought to be the Hindu goddess Durga's incarnation.
She is chosen from among Buddhist Shakya clan girls aged three to five, is worshiped by many, lives a secluded and mysterious existence inside the temple, and her feet never touch the ground during her tenure.
7) Garden Of Dreams
The Garden of Dreams, built-in 1920, truly lives up to its name and is a serene place to spend some time.
The Edwardian-style garden, hidden away within a palace complex, features many exquisite fountains, pavilions, and verandas, with delightful designs everywhere you look.
The garden has a very aesthetic look, is a great place to bring a book or a nice meal, and bask in the stunning environment.
This idyllic garden, just a short walk away from Thamel's hectic streets, is an oasis of peace and tranquility among the commotion and noise outside.
8) Shop at Ason
This thriving spot of Kathmandu will amuse all of your senses.
It's a popular hangout for locals and visitors, selling everything from street food to spices, gifts, and everyday essentials.
Just remember to rehearse your bargaining skills, as prices for visitors are often inflated.
9) Thamel, a popular tourist destination, is worth a visit
Thamel is a tourist neighborhood that is a must-see if you are a night owl because it is the city's main nightlife area.
Thamel's unique attractions draw you on alluringly through a maze of atmospheric streets packed with cozy cafes, classic eateries, and lively bars.
It's a beautiful area to acquire souvenirs because many shops, kiosks, and stands are there to choose from. The neighborhood has a vibrant nightlife throughout the evenings.
There are many hostels, guesthouses, and hotels to select from because it has been at the heart of the city's backpacker scene for more than four decades.
Thamel is a destination in and of itself, as well as a portal to countless treasures, being within walking distance of many of Kathmandu's top landmarks.
If you enjoy shopping for textiles, Kathmandu is the place to be. In Kathmandu's Thamel tourist zone, cashmere, pashmina, and wool scarves appear ubiquitous.
Prepare to haggle hard for the best possible pricing as you stroll through the bustling streets. And it's not like the only thing for sale in Thamel is scarves. There's also a great assortment of winter jackets and outdoor sporting gear to choose from.
10) Monastery of Kapan
The Kapan Monastery, perched atop a hill, has long drawn people interested in Tibetan Buddhism to its colorful, ceremonial halls. You learn about the Buddha's teachings and other spiritual practices through month-long meditation sessions while adhering to a vegetarian diet.
Due to its outstanding embellishments and adornment, the monastery has attracted an increasing number of locals and tourists in recent years. When you consider the unique ambiance, it's simple to see why so many people travel to the outskirts of Kathmandu.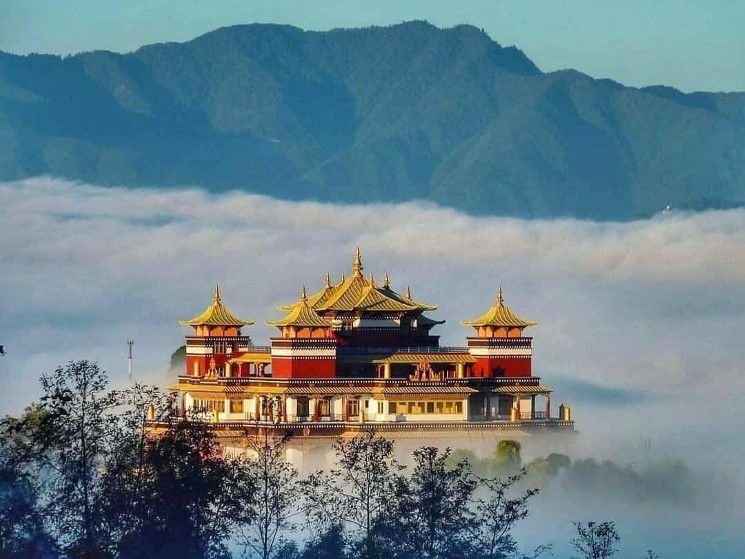 Conclusion
Spending a few days in Kathmandu will allow you to get a sense of the lovely culture, as well as the beautiful people. When you land in Kathmandu, you will be welcomed with the warmest and friendliest gestures.