Spain is easily one of the best European countries to travel to as it throws up all sorts of different delights for tourists to enjoy. The entire country is rich in cultural experience, not to mention the fact it's surrounded by oceans and provides excellent beach weather. You could pick any Spanish city and have a phenomenal time there, but what should you do while you're in Spain? More to the point, what are the different holiday experiences that will provide you with a proper taste of life in Spain?
In this guide, you'll see a definitive list of things to do for the ultimate Spanish experience. These ideas are picked by locals and tourists alike, so there's a mixed bag for you to enjoy!
1) Eat paella
It sounds greedy, but one of the first things you should do in Spain is eat paella. It's the country's national dish, and the Spaniards are extremely passionate about it. If you don't cook paella properly, you best believe that the entire nation will be coming at you. While you can obviously find great paella across the country, Valencia is the place to go for the proper authentic taste. This is where the dish was spawned, and all of the locals take pride in it. We won't pinpoint a specific restaurant to go to get yours – try as many as you like while you're there!
However, Alicante and the Costa Blanca in general is the place to go for traditional seafood paella.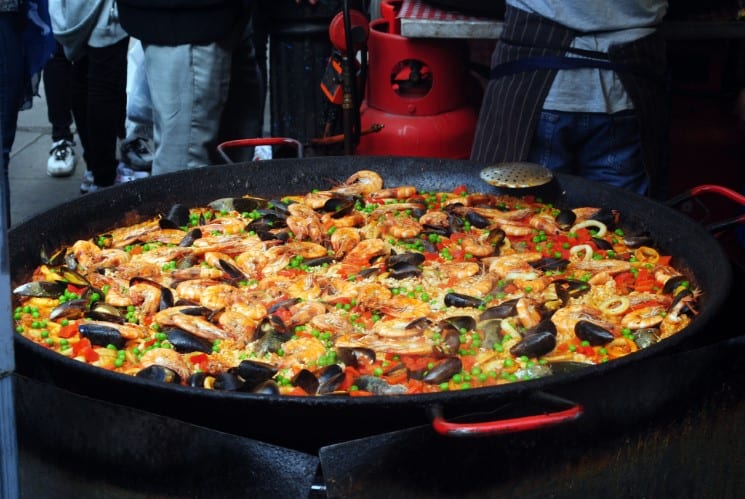 2) Watch a Flamenco show
From Valencia to Seville, the Flamenco is an iconic dance form that's native to Spain. As a result, you can witness so many different performances throughout the year. Flamenco shows are known for being the best in Seville, which is why you should aim to go there. It's a lively show, featuring music, dancing, and a whole host of passionate locals. You can't help but get carried away when you're enjoying a performance, and most major cities have at least one per day.
3) Attend La Tomatina
La Tomatina is an event that's very much unique to Spain. Again, we're back in Valencia for this one, in the small town of Bunol. Even those of you without a faint grasp of Spanish should be able to deduce that La Tomatina has something to do with tomatoes. Well, you're not wrong! Funnily enough, it's a massive food fight festival where everyone throws tomatoes at one another. It sounds extremely crazy, and scenes from the event look…well…quite frankly disgusting – but in a good way! It's not something to do if you don't like getting messy, but it is genuinely one of the most authentically Spanish things you can take part in. This is something that's unique to the culture of Spain, so it's worth attending.
4) Take part in La Ruta de la Tapas
Make your way to the town of Frigiliana, which is found in Malaga, to experience another classic Spanish festival. This one involves less mess than La Tomatina, but just as much food! The difference is that this time you will be eating food instead of throwing it around. It's a massive party at the end of August every year, celebrating the best things about the region – there's food, art, music, and so much more. Of course, you have La Ruta de la Tapas itself, which translates as the route of tapas. Yes, it's exactly what you think it is! For a small fee, you can join a tapas crawl that takes you through so many local restaurants to try the gorgeous tapas offerings in the area. Nothing makes you appreciate Spanish food and culture quite like this.
5) Go to La Batalla de Vino
Head to the northern part of Spain and you will come across La Rioja province. Once here, go northwest and you will stumble upon the small town of Haro. The average person won't have ever heard of this place, and you may wonder why on earth you'd come here. Well, this is all about gaining authentic Spanish experiences, and Haro is home to yet another iconic festival. The Spaniards must love getting messy as this is another festival that really leaves your clothes stained. La Batalla de Vino literally translates as the Battle of Wine, and it's exactly what you expect. Loads of people come together in this town that's known for producing wine, with residents spraying it all over the place. There are parties the night before, and it's such a wonderful thing to be part of.
6) Admire Gaudi in Barcelona
Head to the Catalan region to see one of the most iconic cities on the planet, Barcelona. Everyone knows about this great city and what it has to offer, making it a perfect destination on your tour of Spain. While we can write an entire list of things to do in Barcelona, one thing springs to mind more than most. The city is known for its unique architectural style, including the incredible layout of buildings when viewed from above. But, the main architectural attractions are all the Gaudi works littered around the city. La Sagrada Familia is the most obvious one to view, but there are plenty of other Gaudi works for you to look at and admire.
7) Attend a football match
You really can't go to Spain without attending a Spanish football match. You have two options; go to a league game or go to a National Team game. It's probably easier to go to a league game as the Spanish football league system consists of hundreds of different teams playing pretty much every week, whereas the National Team only plays a handful of times per year. To be honest, it depends on when you go to Spain, but league matches are well worth it, particularly if you attend one involving Real Madrid, Atletico Madrid, Barcelona, Sevilla, or Athletic Bilbao. These are some of the biggest teams in the country with the most passionate fan bases. In fact, we recommend maybe watching Bilbao play as it's an excuse to see the wonderful Basque region at the same time.
8) Visit the town of Caceres
Go down to Spain's border with Portugal and you will find the small town of Caceres. This is such a unique place as it is full of gorgeous Medieval architecture and castles. Honestly, it feels like you've been taken back in time while you're here – it's almost like you're in a TV show or something. The town has been heavily influenced by architects from so many different countries, and this is reflected in the unique designs of all the buildings and alleyways throughout. Actually, speaking of TV shows, this was the setting for many scenes in Game of Thrones! So, if you were dissatisfied with the ending of the once-great TV show, this is a chance to experience King's Landing up close and personal.
9) Visit the Guggenheim Museum
Lastly, we spoke about Bilbao a few moments ago, and it's the last place to go for an authentic Spanish experience. There are plenty of things to do here, but the main one is to visit the legendary Guggenheim Museum. It's something the locals are very proud of, delivering unique architecture on the outside with exceptional art on the inside. Days can easily be spent admiring the exhibitions in this wonderful museum. Plus, you get to see the beautiful city of Bilbao in all its glory.
You've got so many ideas here for an authentic Spanish experience, yet dozens haven't even made the cut. We've taken you on a tour around Spain, but there are still glorious places like Mallorca, Madrid, and Fuerteventura for you to see. It's testament to how incredible this country is, and we hope this list has given you an idea of what to do while you're there.