We had a chance to spend two incredible weeks sailing around the beautiful British Virgin Islands – the perfect sailing destination. There are four big and 32 smaller islands offering beautiful white sand beaches, lovely coral reefs, great bars and restaurants, and peaceful anchorages.
We have rented a catamaran Lagoon 450 F – Kajsa 2017 from Navigare Yachting. It was a bareboat charter, as we had our own captain. So let's have a look at how everything went.
2-week Catamaran Charter at the British Virgin Islands
Booking and arrival at BVI
After choosing the dates, signing the contract, and making the payment, our captain had to fill in the crew list. There were 12 of us there (including the captain). You can find the booking page here, and choose from over 50 sailing yachts, predominantly catamarans.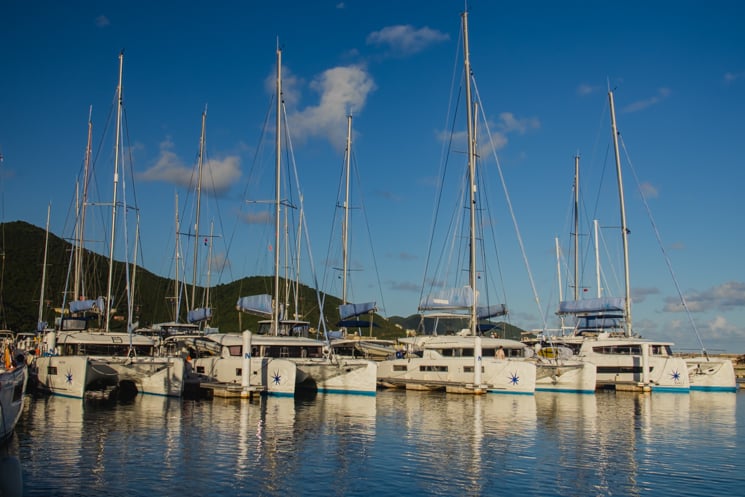 Arrival at BVI
The base of Navigare Yachting is in Nanny Cay Marina, Tortola. It is only a 10-minute drive from the Road Town ferry terminal, which is handy if you arrive by ferry from the US Virgin Islands as we did. After the captain finished the paperwork, the takeover of the boat was quite quick.
We also had a chance to go to the supermarket – there is a handy service – they take you by car to the supermarket in the city and bring you with all the stuff back. We really appreciated it, because our plan was to cook onboard for the whole crew. (In case you don't want to cook you can hire a chef).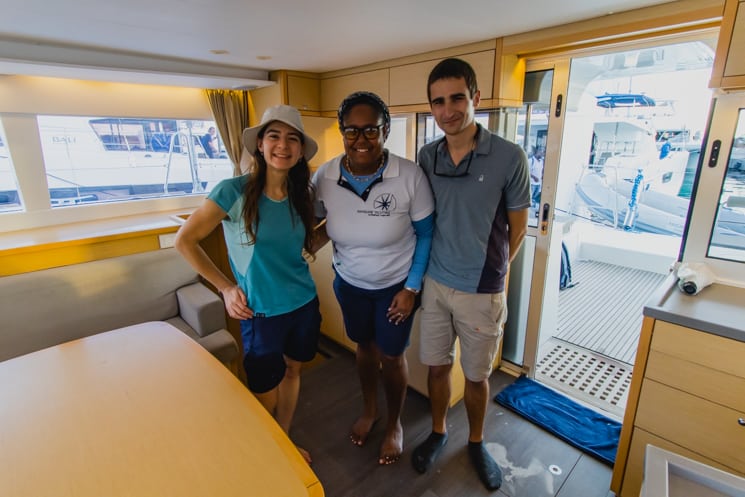 Carefree pack
Another important fact to mention is the Carefree pack, which is mandatory, but very handy because it includes the full insurance coverage of the vessel. We really appreciated the snorkeling equipment for the whole crew. Besides that, it also includes:
welcome package
final cleaning
bed sheets, bath towels, and beach towels (for each guest: 2x bath towels, 1x beach towel, 1x washcloth, 1x face towel)
dinghy with an outboard engine & fuel
propane gas for cooking
full water tanks
prepaid BVI mobile phone and text message with daily weather forecast (calls to/from base are complimentary)
National parks permits and VISAS
You can find all the information about the Carefree pack here. We also bought unlimited internet for about 80 USD.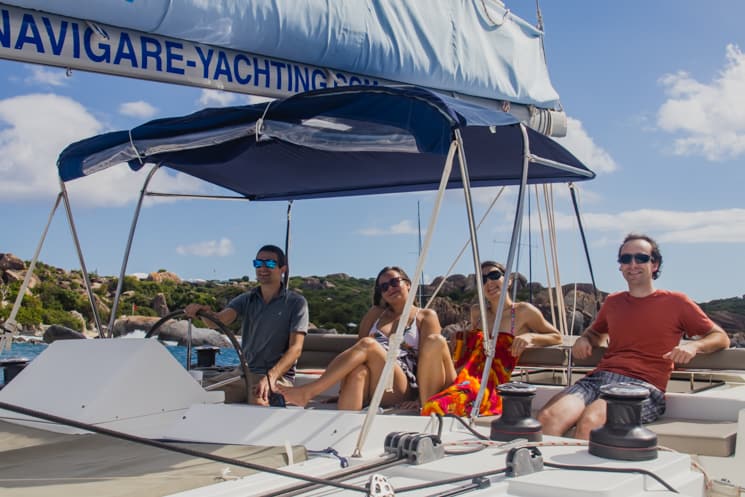 Cooking onboard, Bars and Restaurants
In 90 percent of cases, there was always some restaurant we could go to for dinner. The highlights are definitely the Lobster Trap in Anegada (once you are there, definitely try a lobster) and the Soggy Dollar bar (they had really great lunch menus). The rest of the time we cooked for ourselves – especially for lunches, so we didn't need to look for a restaurant in the middle of the day. It was 12 of us, and we took turns to have more time to enjoy snorkeling and swimming during the day. 
Anchorage and Moorings
One of the big advantages of the British Virgin Islands as a sailing destination is the close proximity of the islands. There are many places you can stop during the day and chill or snorkel as well as many bays and moorings where you can stay overnight.
An important tip for the captain is that some popular spots open their bookings at 6 or 7 AM and they are booked very fast, so be prepared and book them in time. This was for example the case of Anegada. Also, remember to come early to Trellis Bay (before noon) in case you want to stay there for the Full Moon Party.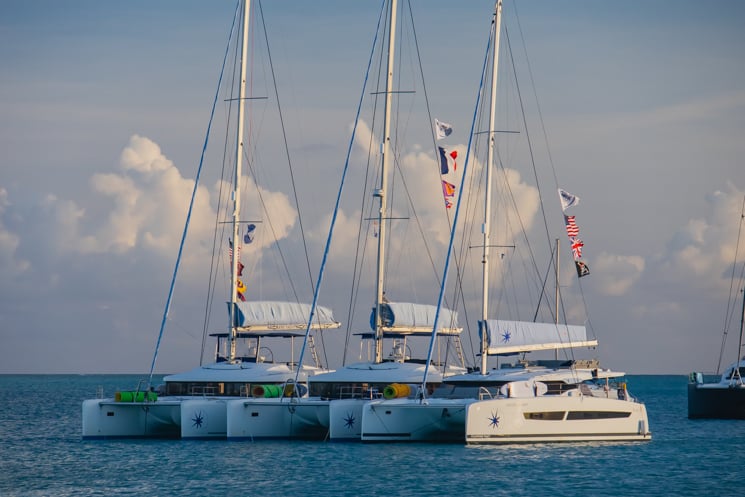 Video from catamaran charter at BVI
Because the video tells more than thousands of words:
Beautiful Places in BVI
We like the whole British Virgin Islands. Beautiful beaches, bays, snorkeling spots, and lovely towns, but if you ask us for the highlights here they are: 
1) The Baths
Probably one of the most popular places in the entire British Virgin Islands. These surreal and spectacular rock formations can be found on the island of Virgin Gorda. The rocks form kind of a maze, you can walk through.
For yachts, there is a daytime anchorage that is ideal for swimming and snorkeling. We strongly recommend taking your dinghy, to go to the shore and enjoy the beautiful beach by these spectacular rocks.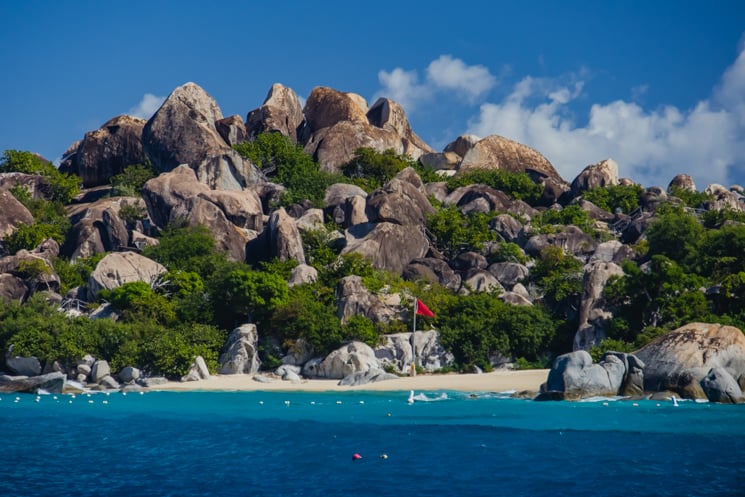 2) Anegada Island
Anegada island is the true Caribbean paradise location with white sand beaches, palms, and sea turtles swimming in the anchorage. If you have time, plan at least 2 nights over there, because you can rent a car or motorbike and do a little tour around the island. If you find yourself a seafood fan, we can highly recommend eating lobster in the Lobster Trap restaurant – it is a lovely place directly on the Pier.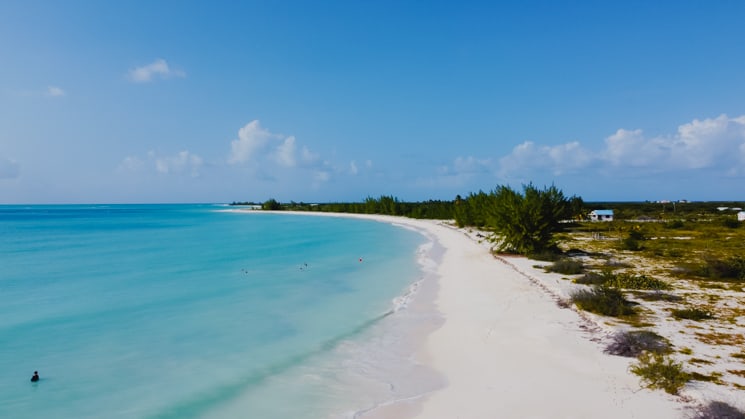 3) White Bay, Jost Van Dyke
Maybe you have already read something about the famous Soggy Dollar Bar. Yes, it is located in an amazing place, as the rumors say. Shallow turquoise bay with laid-back bars & white-sand beach and coconut palms. This place is paradise on Earth. Once you are there, you should try the Painkiller cocktail. Cocktail originated and perfected at the Soggy Dollar in the 1970s, which is now famous around the Caribbean.
The Painkiller is a mix of premium dark rum, coconut cream, pineapple, and orange juice topped with fresh grated Grenadian nutmeg.
White Bay is free to access and most travelers arrive by dinghy (there is no pier). Another option is to walk from the neighboring bay.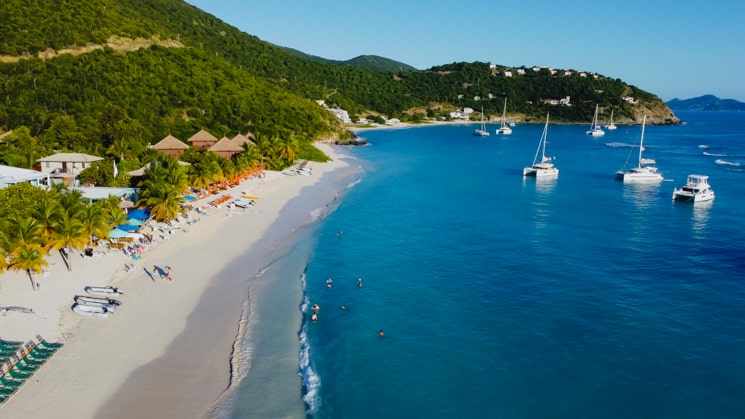 4) The Indians – snorkeling spot
The Indians is the no. 1 snorkeling spot in the British Virgin Islands. We have stopped at many different spots but this one was definitely the highlight of our journey. You'll find both hard and soft corals. We saw many fish, like parrotfish, cowfish, damselfish, sergeant majors, jacks, queen angels, wrasse, and even a sea turtle.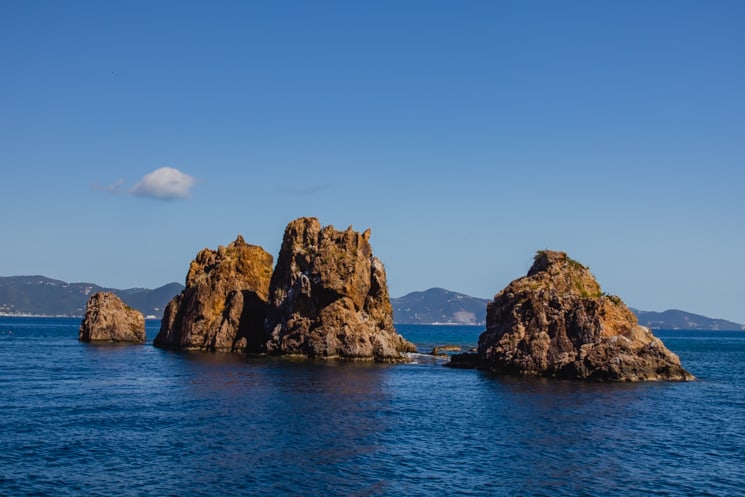 5) Trellis Bay for the Full Moon party
Have you heard about the full moon parties? The idea comes from Thailand, but if you are around the full moon around Tortola Island, you have to visit Trellis Bay. We were lucky to enjoy such a party and we can 100 % recommend it!
There were fire shows, dance shows, great party music, and delicious drinks!
Inside tip: The moorings in Trellis Bay fill up quite quickly for the full moon party – there was no space after 1 PM. So our suggestion is either to come early or you can always find a place in Low Bay and come by dinghy – it is quite far (a little over 1 km), but the dinghy can do it. In that case, don't forget the light with you.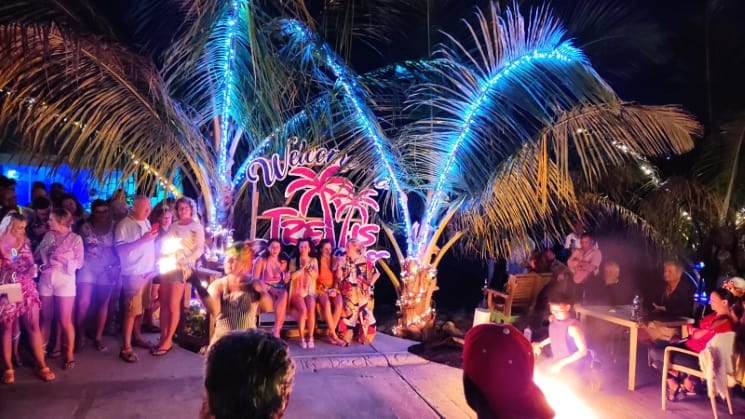 6) Scrub Island Resort, Spa, and Marina
If you want to enjoy a luxurious place, stay for a night or two at Scrub Island Marina. It is a very nice complex with a spa, swimming pool, and whirlpool with an amazing view. There is also a very nice snorkeling spot just a short ride with a dinghy. A night in a Marina was 120 USD per catamaran.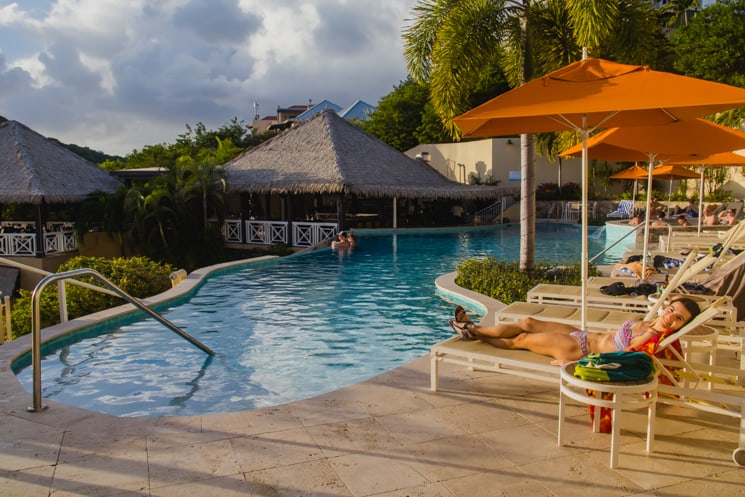 7) North Beach at Scrub Island
If you are looking for a tranquil beach, North Beach at Scrub Island is the one you are looking for. There is a beach bar, a little swimming pool, a shower, and many deckchairs under nice palm trees. You can get there by a quick ATV ride from the marina or it is a nice 10-minute walk from there.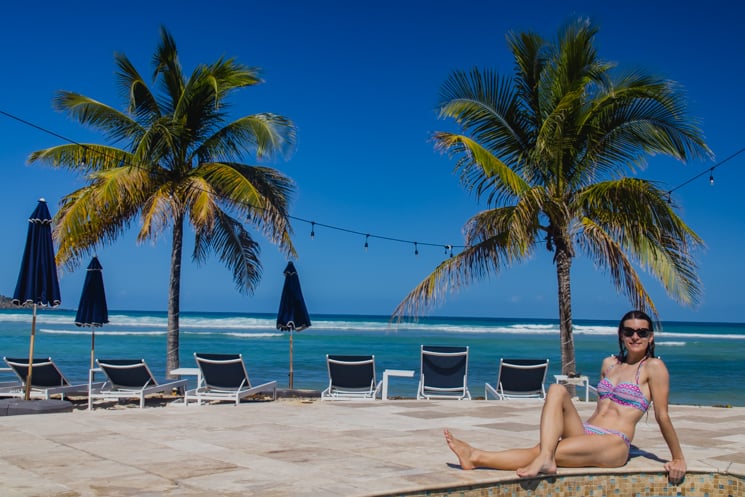 What did we like the most?
We really enjoyed the big spacious catamaran (so far, we have been only to monohulls, like Bavaria or Sun Odyssey). We also liked the joy of freedom. Freedom of where to go the next day, if to snorkel, chill on the beautiful beach, or party in the evening. As we said, the BVI has a great infrastructure, there are plenty of anchorages, moorings, and marinas in close proximity, so you really can choose what to do the next day without big planning in advance.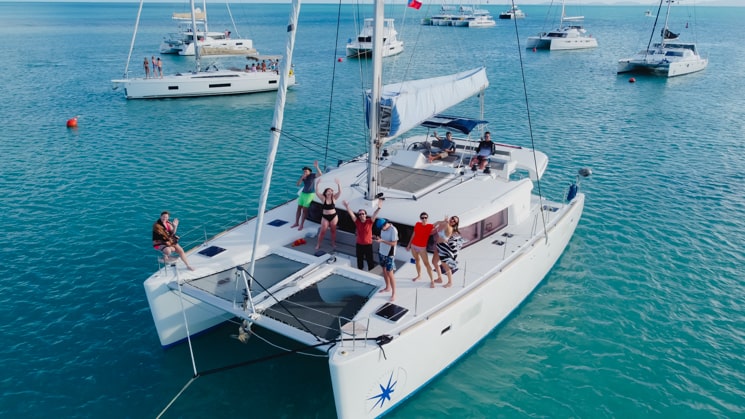 Conclusion
We spent 2 great weeks sailing and exploring the British Virgin Islands at the spacious and elegant catamaran Lagoon 450 F. We have enjoyed sailing, snorkeling, and partying at Trellis Bay, as well as the chill on beautiful white sand beaches. Now we can recommend charters by Navigare Yachting to everyone because we had a great time!
Check also our second article:
Photo Gallery
Boat exterior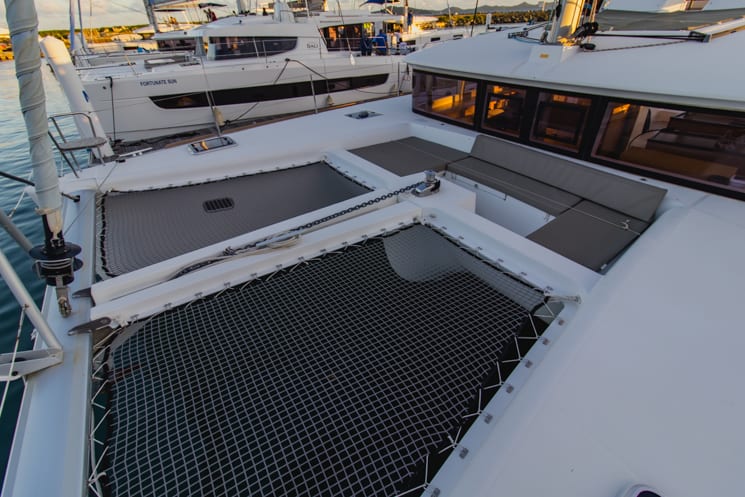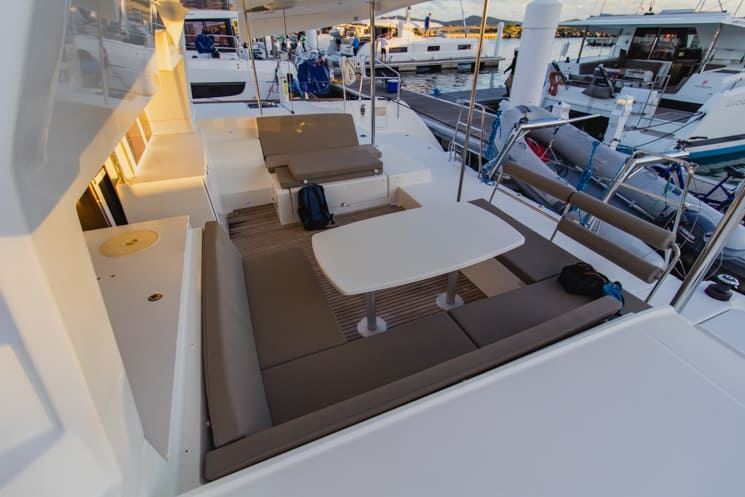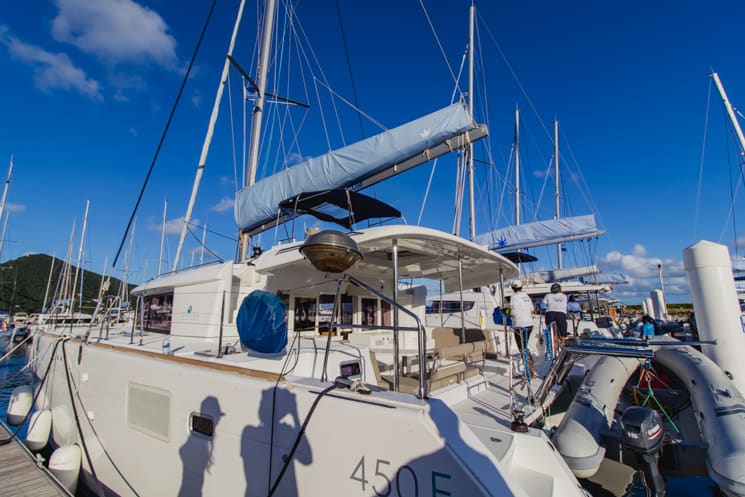 Boat interior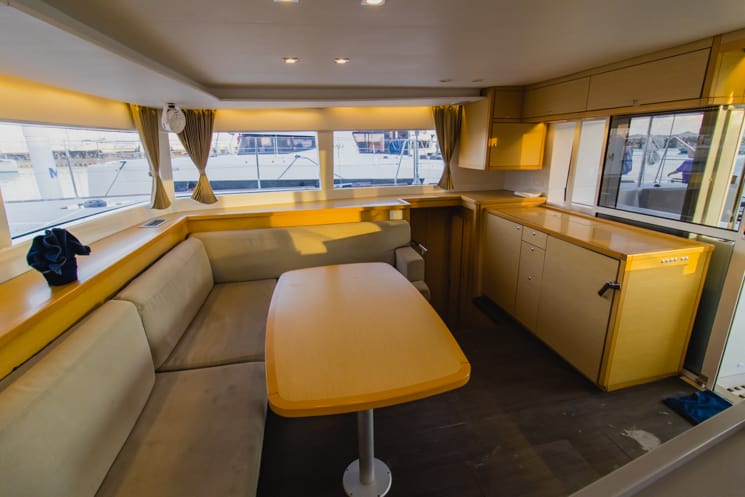 Sailing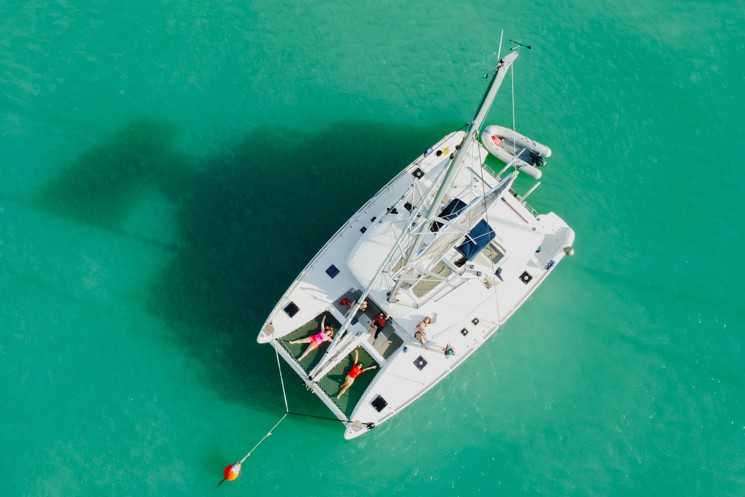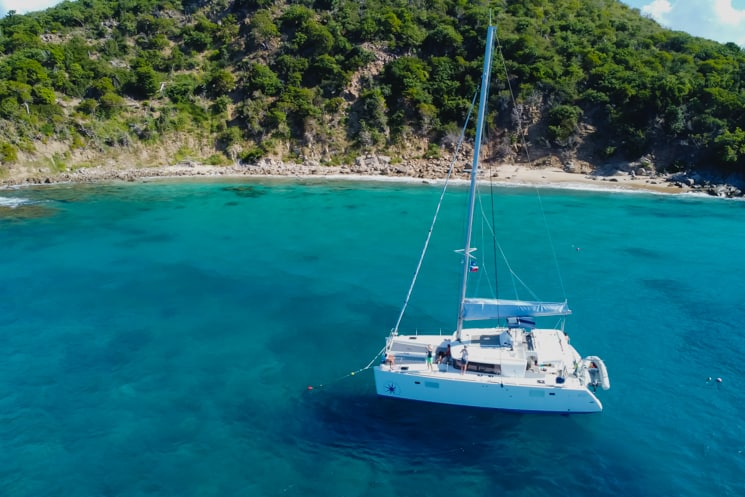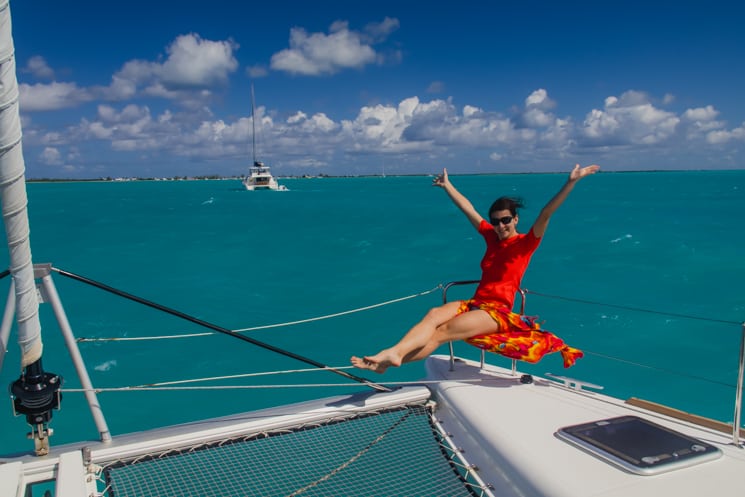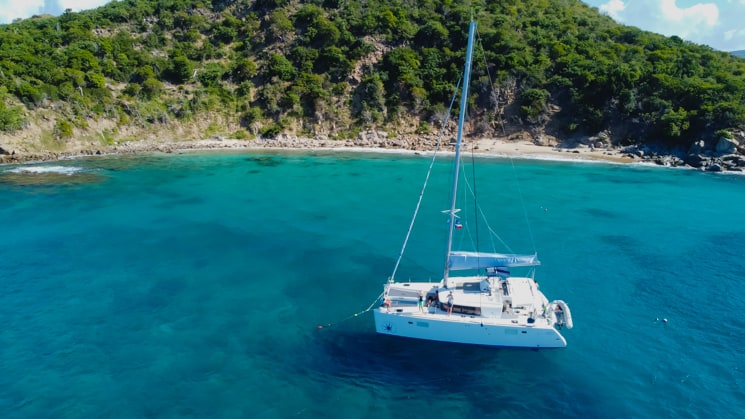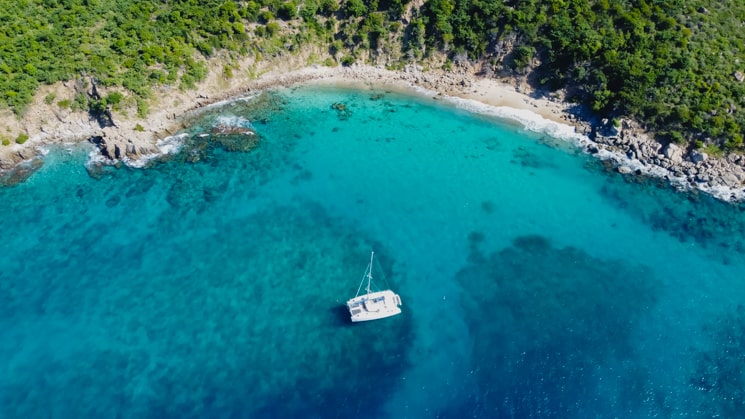 Snorkeling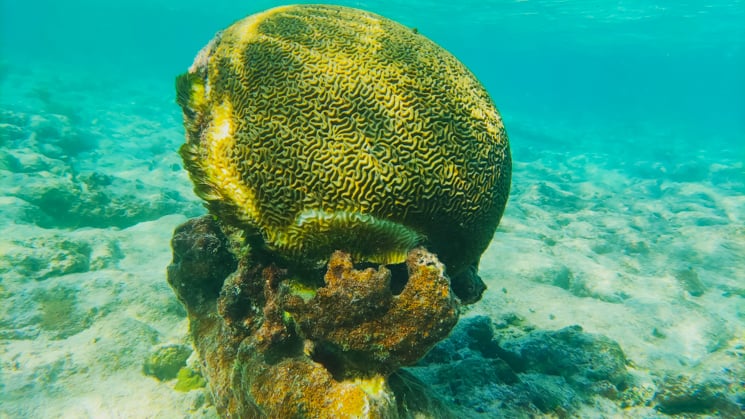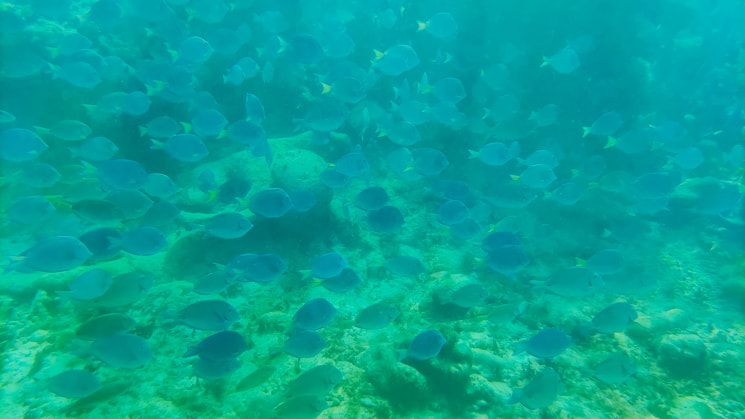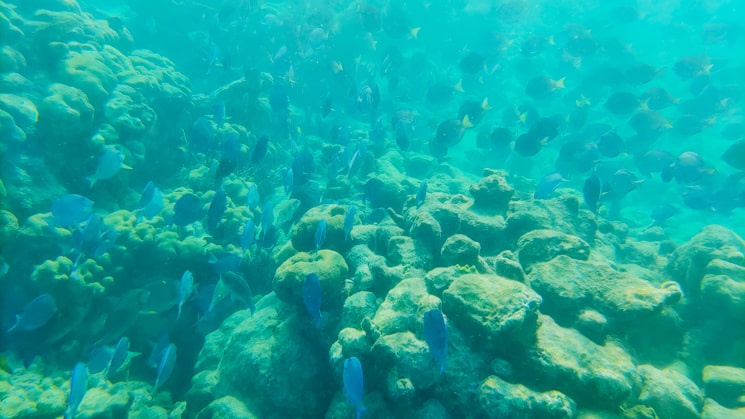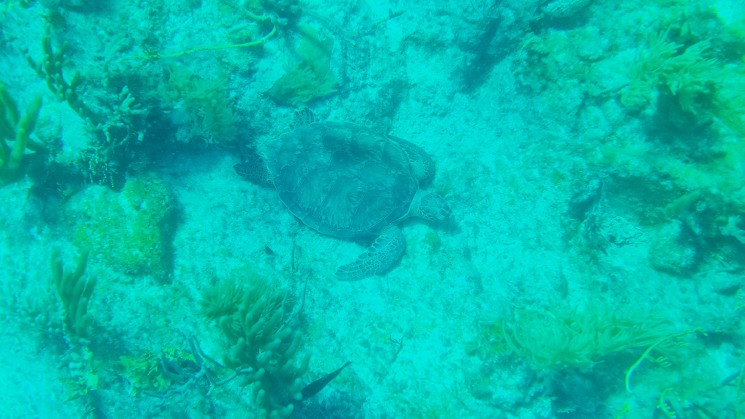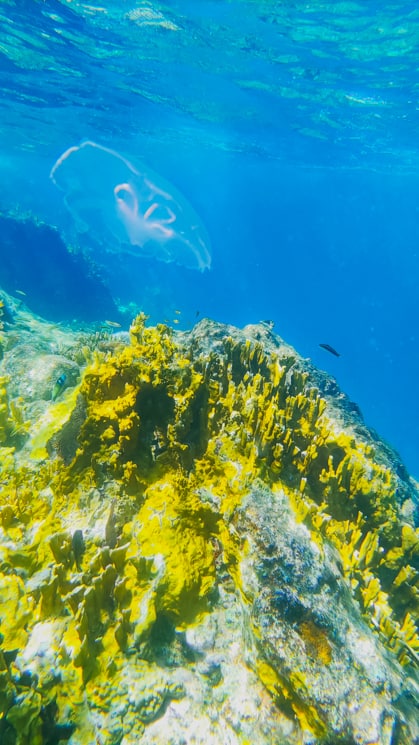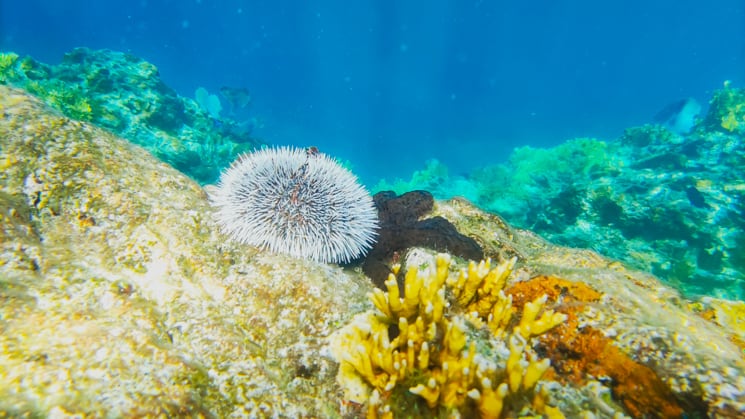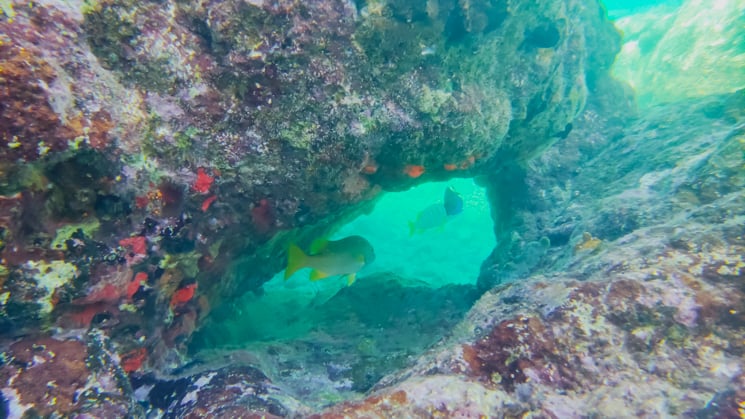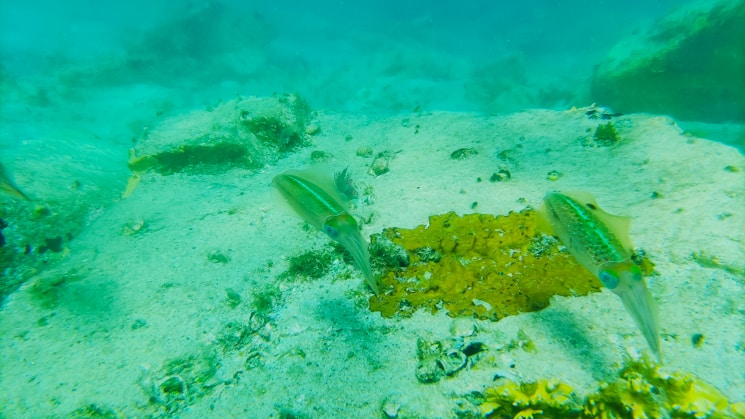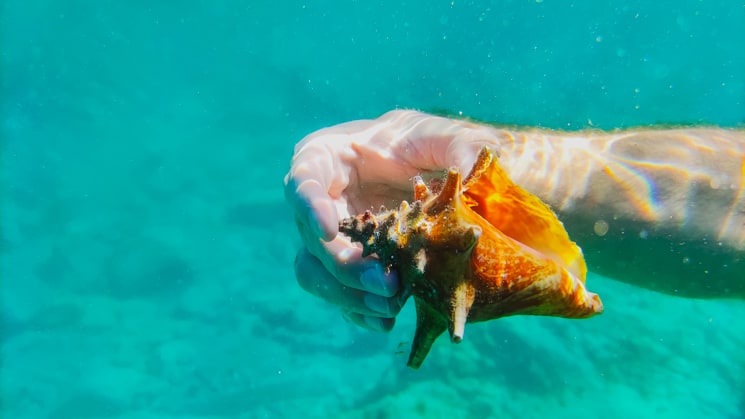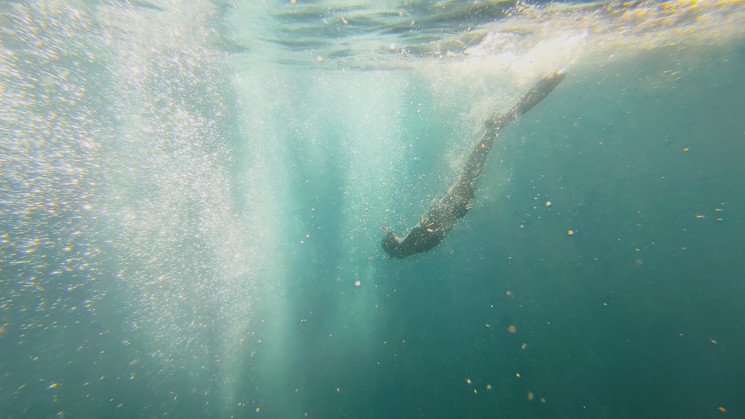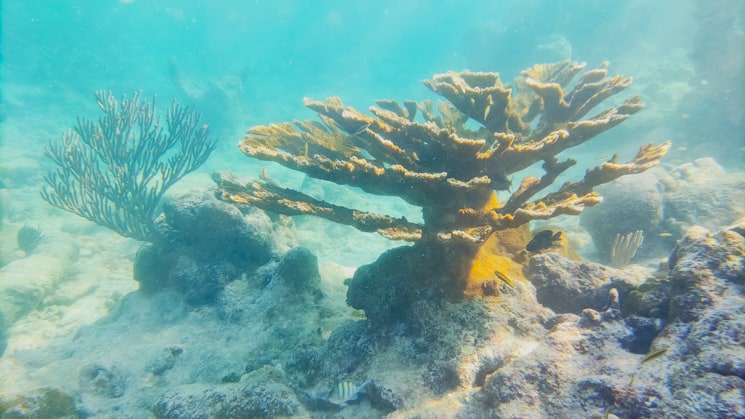 Pin Yacht Charter at BVI – Personal Experience with Navigare Yachting for later or to your friends: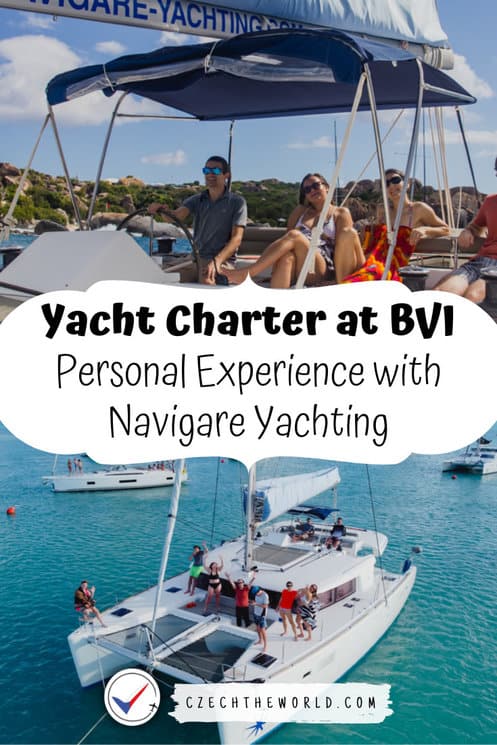 Do you like our post about Yacht Charter at BVI – Personal Experience with Navigare Yachting? Share it with your friends!